Media, Law & Policy
Newhouse School Announces First-of-Its-Kind Student Internship with Medtronic, WCG
The S. I. Newhouse School of Public Communications has announced, in partnership with Medtronic, a global medical technology company, and WCG, an integrated communications and marketing firm and member firm of the W2O Group, the first recipients of its Annual Affiliate Internship Program.
The recipients—Weiyi Wang and Yi Wang, both graduate students in public relations at the Newhouse School—received a 2016 summer internship at WCG and Medtronic, working from both an agency and corporate perspective. This program began June 13 and lasts through Aug. 12.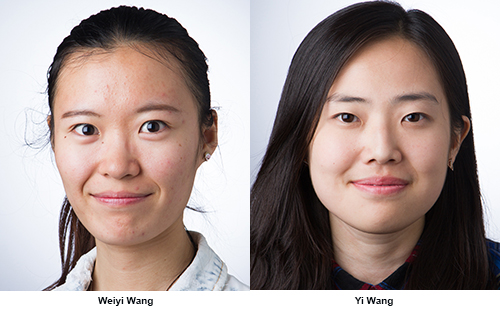 According to Rob Clark, vice president of global communications at Medtronic, this unique internship program offers students a tremendous opportunity to learn all aspects of the communications industry while working on the same projects from two very different perspectives—the client side and agency side.
"The interns will experience first hand how our communications and corporate marketing teams partner with WCG to showcase how Medtronic is helping transform healthcare systems worldwide," Clark says.
The internship was designed for students in undergraduate or graduate programs at Syracuse University looking to supplement their academic programs with diverse professional experiences. The program comprises two equal durations of internships at the Medtronic operational headquarters in Minneapolis and the WCG Minneapolis office.
"We strongly encourage our students to learn beyond the classroom, to land internships that help them apply what we teach and to take advantage of opportunities to use cutting-edge practices," says Maria Russell, co-director of the W2O Group Center for Social Commerce and professor of public relations at Syracuse. "We're thrilled that our current partnership with W2O Group is now expanding into new territory to give our students unrivaled insights and perspectives. I know of no other internship program where students gain such in-depth agency and corporate experience in one summer."
W2O Group is a network of complementary integrated marketing and communications agencies, including WCG. The new internship program was organized through the W2O Group Center for Social Commerce, which is made possible through a gift from W2O Group CEO and Syracuse University alumnus Jim Weiss. The W2O Center for Social Commerce aims to ensure Syracuse University students are immersed and educated in social commerce, social media, technology, analytics and the influence they each play on our society and industry, providing them with cutting-edge skills and insights that will enable them to stand out among their peers as they enter the workforce.
"One of the missions of the W2O Center for Social Commerce is for students to learn through real-world experiences so that they can apply those skills to their careers, and this internship brings that mission to life," says Weiss. "Allowing students to interact with seasoned professionals at WCG and one of our most dynamic clients, Medtronic, at the same time will grant them valuable knowledge in a rapidly evolving industry."