Veterans
Falk College Hosts Discussion Series for PTSD Awareness Month in June
To educate the local community about issues related to Posttraumatic Stress Disorder (PTSD), Falk College is offering a discussion series during the month of June, which is designated as National PTSD Awareness Month to raise public awareness of PTSD and its effective treatments. PTSD is a psychiatric disorder that can occur following the experience or witnessing of life-threatening events, such as military combat, natural disasters, terrorist incidents, serious accidents, or physical or sexual assault.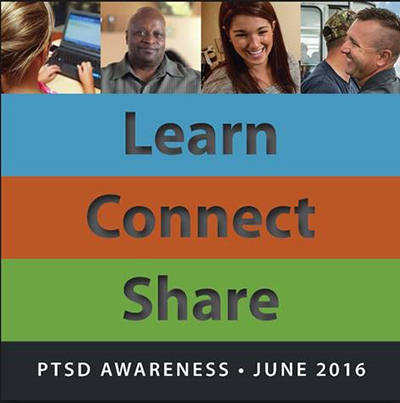 These programs, which are free and open to the public, take place in conjunction with the Trauma Research Education for Undergraduates (REU) program, a joint effort by Syracuse University, SUNY Upstate Medical University and SUNY Oswego to improve access to research experiences for groups typically underrepresented in research.
The project, "REU Site: Training Diverse Undergraduate Teams of Veterans and Non-Veterans to Conduct Trauma Research with Veterans: Collaborative Research," is directed by Brooks B. Gump, Falk Family Endowed Professor of Public Health in Falk College and co-directed by professor Karen Wolford, who also coordinates the interdisciplinary graduate certificate program in trauma studies at SUNY Oswego. Other faculty from these institutions and SUNY Upstate Medical University are involved in the program, as well as Falk College's Keith A. Alford, associate professor of social work, and Dessa Bergen-Cico, associate professor of public health.
With support from the Institute for Veterans and Military Families (IVMF) and Falk College, the Summer 2016 REU Program has announced that Linda S. Schwartz, Veterans Administration (VA) assistant secretary for policy and planning will present a lecture on June 27 at 1 p.m. in the Maxwell School's Global Collaboratory, Room 060, Eggers Hall. In her role, Schwartz serves as the VA's principal advisor on all matters of policy and organizational strategy by providing VA decision makers with the advice, counsel and support necessary to fulfill the VA mission.
Additional speakers featured during this series include:
Thursday, June 9:
Douglas Scaturo, retired clinical psychologist, Syracuse Vet Center, Readjustment Counseling Service, Syracuse VA Medical Center, "Combat Stress," 1:30, Falk Complex, 400 MacNaughton Hall.
Monday, June 13:
Duane Quates, federal archeologist, U.S. Department of the Army, "Archaeology and the Modern Military: An Exploration of Non-Traditional Applications," 9 a.m., Falk Complex, 400 MacNaughton Hall.
Kyle Possemato, clinical research psychologist, Syracuse VA Center for Integrated Healthcare, "Clinical Research with Military Veterans with PTSD and Substance Abuse," 1:30 p.m., Falk Complex, 400 MacNaughton Hall.
Monday, June 27:
Thom deLara, professor of practice, Department of Marriage and Family Therapy, Falk College, "A contextual framework for understanding trauma," 9 a.m., Falk Complex, 400 MacNaughton Hall.
Supported by the grant "National Science Foundation Research Education for Undergraduates NSF REU Site: Training diverse teams of Veterans and non-Veterans to study trauma in Veterans," the REU program spans one year. Students attend an intensive four-week summer program during June that includes coursework, mentored student-faculty interaction and the development of a research project. Students conduct their research under the continued mentorship of REU faculty during the following fall semester. Students, with their mentors, present research findings in the following spring at a national or international conference.
This program provides research training to increase skills in conducting trauma research while increasing a student's ability to gain admission to competitive graduate programs.
For more information about the speakers or REU program, contact Ivan Castro (iecastro@syr.edu) and visit http://falk.syr.edu.