Campus & Community
Syracuse Children's Chorus Spring Celebration Concert 'Shower Me In Song'
Under the direction of Marcia DeMartini, Katherine Dee Medicis, and Da'Jon James, and with pianist Maryna Mazhukhova, the Syracuse Children's Chorus concludes its 35th season with their Spring Celebration Concert, "Shower Me in Song" on Sunday, May 8, 2016 at 4:00 p.m. in Hendricks Chapel on the Syracuse University campus.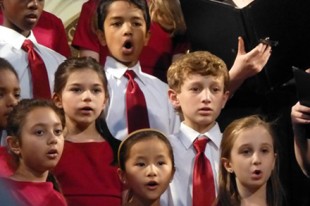 At the season finale performance, SCC's four chorus levels join to feature works by Rutter, Larson, Vecchi and a combined performance of Moses Hogan's "Music Down in My Soul."
Priority ticket pricing is $22 for adults, $20 for seniors and $10 for children. General ticket pricing is $18 for adults, $15 for seniors and $10 for children. Tickets will be available at the door. For more information or to purchase tickets, please contact the Syracuse Children's Chorus office at 315.478.0582, by email at bharris@syracusechildrenschorus.org, or visit our website at www.SyracuseChildrensChorus.org.
URL: syracusechildrenschorus.org
Contact: Bethany Harris, Director of Operations
Syracuse Children's Chorus
315.478.0582
bharris@syracusechildrenschorus.org