Media, Law & Policy
Newhouse Students Put Faces, Voices to Syracuse's No. 1 Poverty Ranking
Students in the Newhouse School took an in-depth look this spring at a stark statistic: Syracuse is ranked No. 1 for concentrated poverty among blacks and Hispanics out of the 100 largest metropolitan areas in the country.
The students, who were enrolled in the "Advanced Editing" course taught by adjunct Emilie Davis published their work as the multimedia project "Syracuse Jobs Matter."
Six in 10 poor blacks and Hispanics in Syracuse live on a block where they and their neighbors share a grim reality: They live under the poverty line. "It's called 'concentrated poverty,' and we in Syracuse have the worst case of it in the nation," according to the report. In contrast, nationally, one in four poor blacks, or 25 percent, and nearly one in six poor Hispanics, or 17 percent, live in neighborhoods of concentrated poverty.
The study was inspired by Paul A. Jargowsky, a Rutgers University professor and a fellow at The Century Foundation, who published his poverty study last August: "The Architecture of Segregation: Civil Unrest, the Concentration of Poverty, and Public Policy."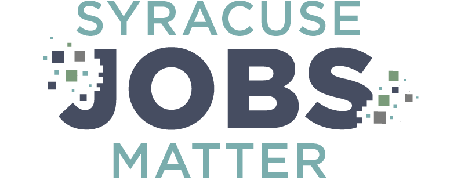 For decades, Syracuse has had one of the highest poverty rates in the country. But the study by Jargowsky, who analyzed census data, revealed that Syracuse has the highest rate of extreme poverty concentrated among blacks and Hispanics out of the country's 100 largest metro areas. "It was a call to action for us to do some classic journalism, to 'put a face' on the people affected," says Davis.
According to Jargowsky, concentrated poverty is defined as census tracts where more than 40 percent of households live below the federal poverty threshold; in late 2013, that figure was $23,000 per year for a family of four.
This spring, seven students spent four months working together as multimedia journalists to conceptualize and execute the project. Six of the students are seniors majoring in newspaper and online journalism (NOJ) who took the course as their capstone; one student is a junior majoring in broadcast and digital journalism who took the course as an elective.
Participating students were: Rawan Ashoor, Jesse Dougherty, Danielle Gehman, Taylor Lupo, Maya Parthasarathy, Ryan Raigrodski and Shelly Seidemann. In addition to Davis, NOJ chair Steve Davis and community news coordinator Ashley Kang assisted with the project.
The students met with community members, interviewed people living in poverty and covered local issues that affect employment, such as the fight for a $15 minimum wage and monthly protests at the Syracuse Inner Harbor over a tax deal.
To put together the "Syracuse Jobs Matter" report, the students wrote stories, shot video, took pictures, captured audio, managed content for the project's website (including maps and graphics, headlines and photo captions) and created and executed a social media campaign on Facebook, Instagram, Pinterest and Twitter.
"We are not advocates for any cause," says Davis. "We are journalists bringing to light a serious issue with serious consequences for our community."
Davis says the project offers an opportunity for local community members to:
seek knowledge about what put Syracuse at the top of the poverty list;
join community members who are fighting for the unemployed and underemployed;
hold community leaders accountable for policies that affect people's livelihoods;
meet and help citizens who are struggling to be employed at a decent wage;
utilize the resources and job services published on the website; and
share their personal stories.
The "Syracuse Jobs Matter" project comes on the heels of another project, "My Housing Matters," which was published by students in Newhouse's "Urban Affairs Reporting" and "Advanced Editing" courses last year. That project was based on a report by Central New York Fair Housing, which found that Syracuse is one of the most racially segregated cities in the nation—which, in turn, limits minorities' access to good housing, jobs and education.
The project won first place for Best Multimedia Story, awarded by the Syracuse Press Club.