Campus & Community
More than a Decade of Dialogue, C.A.R.E. Celebrates Continued Impact, Growth
What started as a pilot program for student staff in the residence halls, Conversations about Race and Ethnicity (C.A.R.E.) is now a staple Student Affairs program that has engaged more than 1,000 campus community members in important and critical dialogue.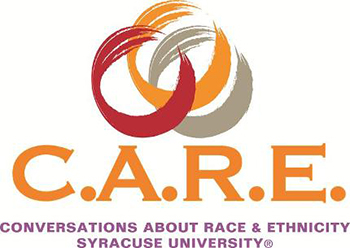 With the successful implementation of for-credit dialogue circle classes occurring at Syracuse University, the Division of Student Affairs, Office of Academic Affairs and Community Wide Dialogue to End Racism collaborated to institute a co-curricular option.
"Through previous collaborations with Academic Affairs, Student Affairs was focused on producing educational outcomes within our co-curricular programs. With that philosophical approach in mind, it made sense to me and my colleagues to have a co-curricular dialogue option to offer students," says Barry L. Wells who served as senior vice president and dean of student affairs when the program was initiated and currently serves as a special assistant to Chancellor Kent Syverud.  "With existing diversity education already happening with our staff throughout the division, expanding our programming to include C.A.R.E. helped to educate our students about diversity issues where they lived."
To get the program started, Rebecca Reed Kantrowitz, then-director of the Office of Residence Life, and James K. Duah-Agyeman, director of the Office of Multicultural Affairs (OMA), worked together to implement Syracuse University's first co-curricular dialogue experience within the residence halls. With the help of Gretchen Lopez, director of Intergroup Dialogue (IGD) in the School of Education, and Beth Broadway of InterFaith Work's then-Community Wide Dialogue program, now the El-Hindi Center for Dialogue, a pilot program was launched in the spring of 2005.
"With the great work happening through the academic courses in dialogue, we were excited to bring C.A.R.E. to Student Affairs," says Kantrowitz.  "The transformation that occurs through dialogue gives participants a better awareness of self and awareness of others that can create a more respectful, inclusive and connected community."
Duah-Agyeman, who coined the name of the program, expresses the same sentiment when reflecting on C.A.R.E. and the role it plays. "C.A.R.E. is one of the few spaces on campus where students, faculty and staff can be engaged in self-exploration of their own bias and stereotypes without being judged. It is a space to meaningfully interrogate race and racism in a welcoming environment, facilitated by two well-trained professionals."
After the successful pilot in the spring 2005 semester, C.A.R.E. was quickly adopted into the Student Affairs programming repertoire. Staff began to participate in the dialogue circles and some continued on to become facilitators, including Duah-Agyeman.
Kim Williams Brown went through her first C.A.R.E. dialogue circle in the summer of 2005. As a member of the Residence Life staff, Brown would participate with fellow residence directors and assistant residence directors in the newly created C.A.R.E. dialogue program. Since that time, Brown's journey with C.A.R.E. has moved from facilitator to supervisor while she was an associate director in OMA, to advocate for the program and the benefits of dialogue.
"C.A.R.E. has been instrumental in creating a space for students to tell stories that mean something and that speak back to institutionalized discrimination and power," says Brown.
"In our society, all students should understand what it means to work across difference, to think about privilege and oppression and to discuss the ways in which racism has been harmful for all of us," Brown adds.
During her time with C.A.R.E., Brown saw the program grow and evolve by enhancing the facilitator training with continuous learning opportunities, creating a logo and web page to better market the program, and developing a partnership with the Honors Program to hold a C.A.R.E. course. The program's evolution continued this past year with the help of C.A.R.E. graduate assistant Jordan West.
West, a doctoral student in cultural foundations of education, came to C.A.R.E. with experience in dialogue and training as a facilitator through IGD. After spending a year coordinating the program, West recognized a need to update the curriculum and help it better address the current needs of college students, staff and faculty. West spent the winter break of 2014 revising the curriculum and implemented the new curriculum in spring 2015.
The new curriculum is grounded in critical race theory, feminist theory and intersectionality theory, and the readings and videos are constantly updated. West also incorporated critical reflective writing to encourage continual reflection individually. Another key emphasis of the curriculum is the building of knowledge as a community through storytelling.  The understanding of each person's narrative and the relational design of the dialogue process contribute to the program's capacity to build understanding and work across difference.
"C.A.R.E. invites members of the Syracuse University community to come together in a structured, yet flexible space and be your whole self," says West. "C.A.R.E. invites participants to be transparent and share in multiple ways—verbally, written and through art."
Throughout the six weeks, participants spend time in this space engaging in meaningful and challenging conversations.  They explore their racial and ethnic identity, understand the experiences of others, identify social systems of oppression and work toward living a more socially just life.
"When I think back to the first years of implementation, I am amazed at the impact C.A.R.E. has made on so many individuals and the campus community as a whole," says Kantrowitz, now senior vice president and dean of student affairs. "I appreciate all those who have worked with C.A.R.E. to create spaces where intentional, open dialogue can happen and understanding can grow."
C.A.R.E. dialogue circles are offered each semester. To learn more, visit the C.A.R.E. dialogue circle webpage.