Campus & Community
May 19 Is Global Accessibility Awareness Day: Take the #NoMouse Challenge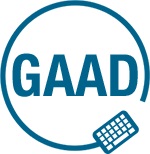 May 19, 2016, marks the fifth Global Accessibility Awareness Day (GAAD). The purpose of GAAD is to get people talking, thinking and learning about digital (web, software, mobile and desktop) accessibility and users with different disabilities.
Information Technology Services (ITS) encourages you to set aside a few minutes to experience the impact of accessibility in your digital assets. Participate in GAAD by taking the #NoMouse Challenge.
People with some types of physical disabilities may not be able to use a mouse. People who are blind generally interact with their computer using only the keyboard. Navigating a website or a web-based application using just the keyboard can be difficult or impossible if the webpage is not accessible. Try the #NoMouse Challenge to see if by using a keyboard alone users can access all the features of your website or web-based application.
How to take the Challenge
To navigate a webpage using just the keyboard (and no mouse):
Use the [Tab] key to move from link to link on the web page. [Shift] [Tab] moves backwards through links.
Use the [Enter] key to select a link
Use the [arrow keys] when needed to move through lists
Use [Escape] to close a pop-up window
What to look for:
Is there a visible indicator to tell you where you are on the web page. This Tab Focus video created by the ITS Accessibility Team shows you what to look for.
Can you access all areas of the page and web site. For example, can you see and select items in drop down menus?
Can you operate all buttons and forms?
If you have an embedded video, can you operate the play, pause and other control buttons?
The ITS Accessibility Team invites you to write a comment about your #NoMouse experience and find more ideas about how you can participate in GAAD at SU.
For more information about IT Accessibility at SU, visit the Accessible Technology Toolkit, or send an email to accessibleIT@syr.edu.