Campus & Community
Class of 2016 Students Who Gave Back Issue Challenge to Alumni: Reach 1,870 Donors by June 30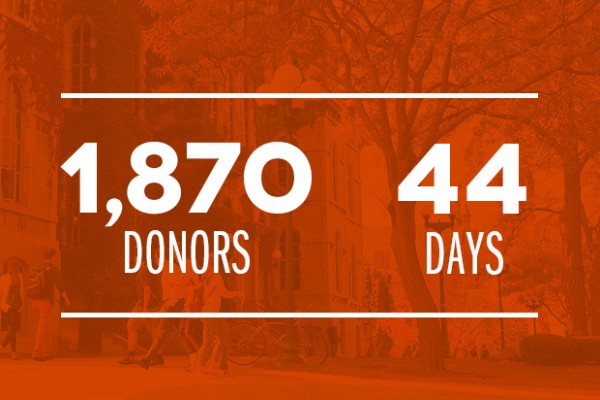 Donors to Class Act, the Class of 2016 Giving campaign, stood out at Commencement this year, wearing the special orange, white and silver cords that recognized their participation in this year's effort. Each student donor chose to give to the part of Syracuse University they love most with a gift of $20.16 or more to commemorate their graduation year. Now they are asking alumni to reflect on the incredible memories they have from their time at SU and join them in making a gift. The Make Your Mark challenge has a goal of reaching a total of 1,870 donors in just 44 days.
The students' 2016 Class Act campaign is on track to have a groundbreaking year. This year, SU undergraduates were joined by third-year College of Law students, and their combined gifts represent a participation rate of nearly 19.8 percent, as of May 11, 2016. Their sentiments for why giving is important are clear.
"SU Abroad changed my life," says Daquan Thomas '16. "I want as many students as possible to have that experience, so I give what I can!"
Alexander Stapinski '16 adds, "My gift is a thank you to Syracuse University, but it's also another step forward in making this place the best it can be."
The class encourages alumni and friends of the University to take a moment to think about all the ways their Syracuse University experience shaped their life.
"I'm so proud to be a member of the Class of 2016 and to see my classmates step up in this way," says Jane Hong '16, vice president of the Syracuse University Student Association and a member of the Student Philanthropy Council. "Recognizing the importance of philanthropy to Syracuse University is so important. The Make Your Mark challenge will help keep our University at its best, supporting instruction, financial aid and student activities, and maintaining classrooms, libraries, labs and other facilities. We can get to 1,870—I'm sure of it!"
The Make Your Mark challenge runs from May 17–June 30. June 30 marks the close of the University's 2015-16 fiscal year. The goal of a total of 1,870 donors was created in honor of SU's founding year. Students remind our community that every gift counts, no matter the size. What's important is to remember that you can make a difference this year and join our students by giving to the part of SU you love most.
Give online today at yourmark.syr.edu and learn how SU students are making their mark by watching this video.
Share and follow the challenge using #mySUmark.