STEM
University Welcomes Snapchat Influencer Alumnus
On Monday, April 25, the University will welcome back Evan Garber '10, a College of Engineering and Computer Science alumnus who is now recognized as one of the first Snapchat stars to grow organically on the platform. Garber will be on campus all day, first conducting classroom presentations and meeting students during lunch; in the afternoon, he will host an all-University workshop, followed by a light reception. Speaking from 4:30-6 p.m. at 500 Hall of Languages, Garber will share his story from engineering to Snapchat, and how he turned his passion into a career.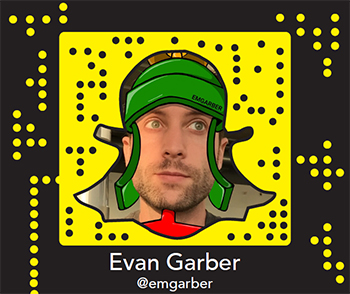 Since turning his attention to Snapchat, Garber has worked with prestigious brands including Disney, General Electric, Nintendo, McDonald's, AT&T, and Major League Soccer. Recognizing the potential of the platform, he focuses on the interaction element of Snapchat. As Garber states, "I found a way to interact and grow a personal connection with my audience so not only do they consume content, but they actually become a part of it."
The campus community is excited about welcoming Garber back to campus and is looking forward to the presentation. Jenna Turman, assistant director of alumni programs for Career Services, believes that Garber's story will both help and inspire students.
"It is important for students to realize that there is more than one career path. Interests change, and it's OK to establish new career goals," she says. "Evan is a perfect example of how every major has transferable skills"
For questions about the event, students, staff and faculty are encouraged to visit Career Services in 235 Schine or call 315.443.3616. Those interested can also follow Garber's Snapchat account, @EMGarber.