Campus & Community
University Hosts Women's Basketball Championship Game-Watch Party at Sheraton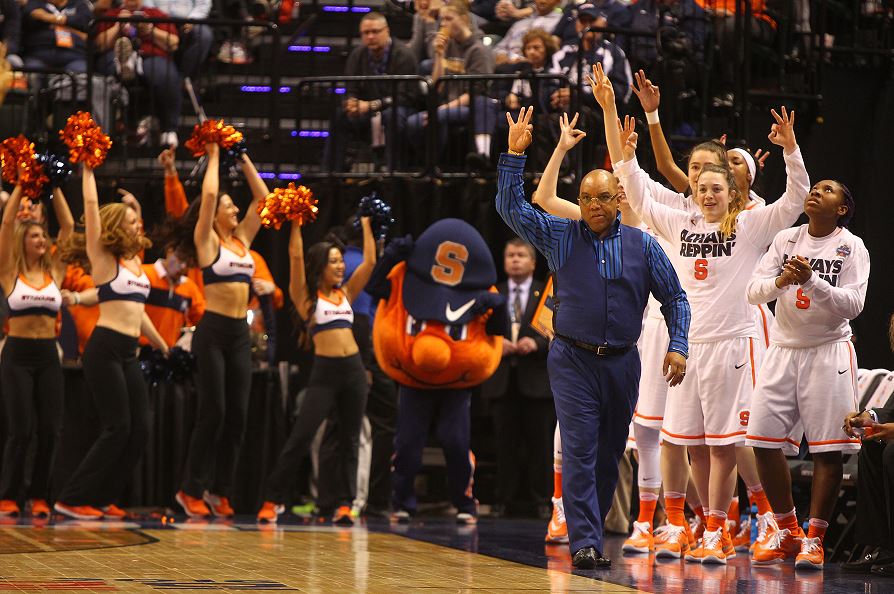 Syracuse University is hosting a game-watch party for Tuesday night's women's basketball national championship game between the Orange (30-7) and the No. 1-ranked University of Connecticut Huskies (37-0). Open to the campus community and the broader Central New York community, the event will take place in the Regency Ballroom of the Sheraton Syracuse University Hotel & Conference Center, 801 University Ave.
Doors open at 7:30 p.m.; tip time is 8:30 p.m. at Bankers Life Fieldhouse in Indianapolis. Admission to the game watch is free, with general seating for the first 400 fans on a first-come, first-serve basis. Hamburgers, hot dogs, pizza, snacks and soft drinks will be available for purchase.
Free public parking is available in the Sheraton garage and in the University-owned Lehman, Harrison and UNV lots on University Avenue.
The championship game will be televised on ESPN and shown on large screens in the ballroom.
The Orange is in the title game by virtue of Sunday's 80-59 victory over the University of Washington. UConn topped Oregon State 80-51 in the other semifinal.
Syracuse is in the midst of its first 30-win season in program history, and the 2016 senior class has 99 wins for their careers.
Fans are invited to show their Orange pride on social media with the hashtag #IBleedOrange. Specially designed Facebook covers, Twitter covers, and shareable Twitter and Instagram images are available at socialmedia.syr.edu/social/downloads-2/. For a large Storify collection of aggregated #IBleedOrange images, visit socialmedia.syr.edu/social/ibleedorange/.
Follow Syracuse women's basketball on Facebook (Facebook/SyracuseWBB), Instagram (@CuseWBB) and Twitter (@CuseWBB).