Campus & Community
Tickets on Sale for Syracuse University Day at Yankee Stadium June 25
Tickets are now on sale for the sixth annual SU Day, which will take place at Yankee Stadium in the Bronx. Ticket are priced at $24 and up, depending on the location of the seats and amenities offered. You can view all ticket options online.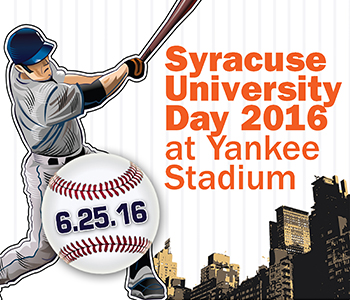 Gates open at 11 a.m. and game time is set for 1:05 p.m., when the New York Yankees take on the Minnesota Twins. A pre-game picnic is available at the Mike & Ike picnic area inside Gate 2. Picnic packages come with a field-level seat ($106). All tickets purchased on the Syracuse University site (through May 25) will come with a game day SU Yankees commemorative T-shirt.
"When I first proposed this idea in 2011, I never knew that it would be the beginning of a new SU tradition—a day at a NYC ballpark," says event co-organizer Brian Spector '78. "Now, six years later, it's our turn again at Yankee Stadium to show our Orange pride."
New this year is a chance to enjoy the game from the comfort of the Club Suite with indoor lounge and outdoor seating, along with an all-inclusive diverse menu and non-alcoholic beverages throughout the game.
As in previous years, there will be bus transportation provided from campus to the game. Buses will depart from Manley Field House at 6:30 a.m. bound for Yankee Stadium with a pickup/drop off in Binghamton. The roundtrip cost is $55 per seat and the bus should arrive back in Syracuse around 11 p.m. In addition, the Central New Jersey Alumni Club will run a bus from Princeton with a stop in New Brunswick ($35).
"I'm thrilled that SU Day 2016 will allow so many SU alumni, staff, family and friends to enjoy a day of early summer baseball together," says Spector. "It's been so much fun to work with SU staff to plan this annual event."