Arts & Culture
Syracuse Stage Announces 2016/2017 Season
Two musicals, two searing dramas, a renowned classic and an all-time favorite comedy-thriller make up the 2016/2017 Syracuse Stage season.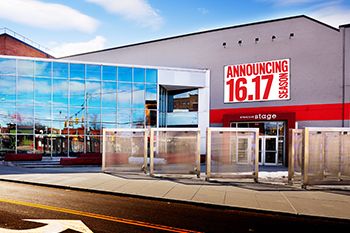 Running Oct. 19, 2016, through May 28, 2017, the 44th Syracuse Stage season includes: an adaptation of Charles Dickens' "Great Expectations," the family musical "Mary Poppins," the Tony Award- and Pulitzer Prize-winning drama "Disgraced," the joyous musical revue "Ain't Misbehavin'," the Pulitzer Prize-winning "How I Learned to Drive" and the seriously funny and scary "Deathtrap."
Season subscriptions and flexible ticket packages for the 2016/2017 season will be available beginning June 1. Single tickets for all shows will be on sale beginning Sept. 6. Subscribers and ticket package holders will have advance opportunity to purchase single tickets to "Mary Poppins" and all the shows in the season. Six-play subscriptions range from $150 to $282. Flexible packages of four, six or eight tickets (FlexPacks) range from $176 to $304.
This season represents the final line-up of plays selected by outgoing producing artistic director Timothy Bond before he joins the faculty at the University of Washington in Seattle. Bond says he sees the season "as a parting gift and an expression of gratitude for having had the opportunity to serve as producing artistic director for nine seasons."
Robert M. Hupp, current artistic director of Arkansas Rep, takes over for Bond in July.
The 2016/2017 Syracuse Stage season kicks off with a lively and moving adaptation of Dickens' classic novel "Great Expectations." This compact stage version offers a terrific opportunity to experience what is arguably Dickens' greatest novel in one energetic and sweeping evening of theater. Adaptor Gale Childs Daly cuts right to the narrative core of Pip's unexpected journey from orphan to gentleman as aided and inhibited by three memorable Dickens characters: the escaped convict Magwitch, the beautiful Estella and the lonely, embittered Miss Havisham. Six actors create an atmospheric Victorian world in this fast-paced coming-of-age adventure. Veteran director Michael Bloom, former artistic director of the Cleveland PlayHouse, guides this truly lovely tale of fortunes gained and lost, of love misused, of hope dashed and peace attained at last.
This year, the holidays will be simply supercalifragilisticexpialidocious as the beloved musical "Mary Poppins" brightens everyone's spirits with an enchanting mixture of irresistible story, unforgettable songs, breathtaking dance numbers and astonishing stage magic. The Banks children, Jane and Michael, have been positively beastly to a series of nannies. Enter (from above, of course) Mary Poppins with her magic tricks and common sense know-how to charm children and grown-ups alike and remind them how important they are to each other. Peter Amster ("The Fantasticks," "This Wonderful Life," "Alfred Hitchcock's the 39 Steps," "Moby Dick," "A Christmas Carol" and Ken Ludwig's "Baskerville: A Sherlock Holmes Mystery") directs with choreography by Anthony Salatino and musical direction by Brian Cimmet. "Mary Poppins" played more than 2,500 performances on Broadway and won seven Tony Awards, including Best Musical (2007). Co-produced with the Syracuse University Department of Drama.
Ayad Akhtar is a daring new voice in American theater, and his searing drama "Disgraced" has racked up major awards (Pulitzer Prize 2013, Tony Award for Best Play 2015) since it premiered in 2012. A successful lawyer, Amir Kapour, is a deeply assimilated Pakistani-American with the perfect job, the perfect apartment and the perfect wife—until it all unravels over the course of a single dinner party (one of the most explosive scenes in recent theater). "Disgraced" is a timely and taut (90 minutes) drama that engages mind and heart with refreshing and stunning candor as it explores the cultural and personal fracturing Amir encounters as he pursues his ideal of the American Dream. May Adrales ("Chinglish" and "In the Next Room, or the vibrator play") directs this blistering social drama that bristles with wit and intelligence.
Following this hard-hitting drama is a musical revue of unbridled joy and sassy repartee as "Ain't Misbehavin': The Fats Waller Musical Show" brings the sounds of the Golden Age of the Cotton Club to rollicking life. Step back into the sparkling nightlife of a 1930s jazz club in this celebration of the jazz legend whose musical influence extended from Uptown to Tin Pan Alley to Hollywood. Twenty-nine famous songs, including "'T Ain't Nobody's Biz-ness If I Do," "Honeysuckle Rose," "The Joint is Jumpin'," and "I Can't Give You Anything But Love" keep the music and good times flowing in "Ain't Misbehavin'." Patdro Harris ("Crowns") directs and choreographs.
Since the 1990s, Paula Vogel has impressed audiences and critics alike with her ability to take complex characters and situations and bring them to the stage with nuance, insight and delicate theatricality. Her Pulitzer Prize-winning play (1998) "How I Learned to Drive" chronicles the troubling relationship between an adolescent girl, Li'l Bit, and her Uncle Peck. Accompanied by a soundtrack of 1950s pop music, the play unfolds as a tapestry of memories and finds unexpected humor and compassion as it avoids easy answers and judgments. "How I Learned to Drive" is a beautifully layered bitter-sweet drama about all-too-human characters and their lasting impact on each other. Syracuse Stage co-produces "How I Learned to Drive" with the Cleveland PlayHouse, whose artistic director Laura Kepley ("Good People") directs.
The season closes with a revival of Ira Levin's landmark comedy-thriller "Deathtrap," which excited Broadway audiences for four years in the late '70s and early '80s before becoming an equally tantalizing feature film starring Michael Caine and Christopher Reeve. The play features Sidney Bruhl, a successful playwright lately plagued by a series of flops. When a sure-fire hit drops into his hands courtesy of a young student, Bruhl concocts a devilish plan that twists and turns on its roller coaster course right through to the final moments. As spellbinding and entertaining as ever, this is a masterful play from the archives that is ripe for reconsideration. Paul Barnes ("The Miracle Worker," "Irving Berlin's White Christmas" and "Peter Pan") directs.