Campus & Community
Still Time to Enter Your Artwork for 'On My Own Time' Exhibition
Faculty and staff still have time to enter their artwork in the University's "On My Own Time" (OMOT) exhibition, which will be on display Friday, April 29, through Wednesday, May 18, in the Noble Room of Hendricks Chapel. The deadline for submitting work for the on-campus show has been extended to noon Wednesday, April 27.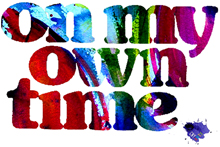 Any full- or part-time University employee may enter up to three pieces of original artwork in the categories of painting, ceramics, printmaking, drawing, sculpture, photography, glasswork, mixed media and others by filling out and submitting the 2016 Employee Registration Form.
"On My Own Time," now in its 43rd year, is a collaboration between CNY Arts and the Everson Museum of Art designed to help local businesses, institutions and organizations identify and celebrate the creativity of their employees. A panel of CNY Arts judges will select a limited number of pieces from each worksite exhibit to be featured in an OMOT exhibit at the Everson in the fall.
For more information, contact Jim Reilly, the University's OMOT coordinator, at 315-443-4224 or jmreill@syr.edu.