Campus & Community
Register for Summer Classes
Register for 2016 summer classes! Boost your GPA, earn some credits, lighten your course load during the fall and spring semesters, stay on track for on-time graduation, or prepare to study abroad. There are lots of reasons to take summer classes and Summer at Syracuse is the place to be!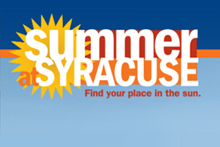 Choose from hundreds of classes being offered.
MAYmester: May 16-27
Session I: May 23-July 1
Session II: July 5-August 12
Combined Session: May 23-August 12
Going home for the summer? Take an online class and study anywhere, anytime.
Don't Delay. Register now through MySlice.
Before matriculated students register for any course, we strongly recommend that you consult with your academic advisor to ensure that courses are applicable to your degree program.
Contact: Academic Advising
315.443.9378
parttime@uc.syr.edu