Campus & Community
Mindfulness Based Stress Reduction Series for Faculty and Staff
The Syracuse University Wellness Initiative is offering a course in Mindfulness Based Stress Reduction (MBSR) for SU faculty and staff. The eight-week course meets Wednesday evenings, 500 Hall of Languages from 5:15  – 7:15 p.m., beginning April 27.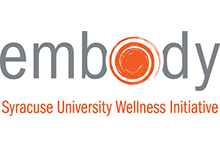 The MBSR program is a blend of meditation, body awareness, and yoga: learning through practice and discussion how our body handles (and can resolve) stress. Invest in yourself and find greater balance and peace in your life.
Space is limited. Register now for the eight-week, nine session MBSR class.
Cost: $40, Checks payable to Syracuse University and can be sent to campus mailing address: Syracuse University Wellness Initiative, Skytop Office Building, Suite 101
Checks must be received by April 21.
Questions? Email wellness@syr.edu or call 315-443-5472.
Add your name to our email list to stay up to date on the latest wellness events.