Media, Law & Policy
Maxwell Model UN Team Awarded Top Honors at NYC Conference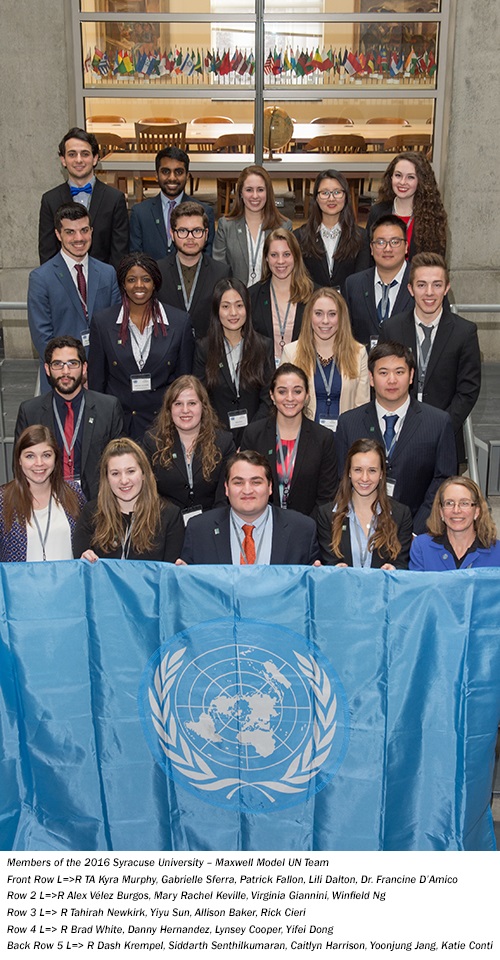 For the third year in a row, the Maxwell School of Citizenship and Public Affairs received top honors for "Outstanding Delegation" at the annual Model UN Conference in New York City. The team, composed of 20 undergraduate students, won the top prize for its research and portrayal of the island nation of New Zealand, the country assigned by conference officials.
In addition, this year, the members of the team received accolades for their skills in research and writing. Delegates Brad White and Yiyu Sun won "Best Position Paper" in the World Health Organization simulation, and Lili Dalton and Virginia Giannini won "Best Position Paper" in the Security Council-B scenario.
Dalton, a three-year member and assistant head of the delegation, was impressed by the team's perseverance this year, noting, "We have received delegation-wide recognition in the past, but the two position paper awards have been a long-term goal of the team."
The New York City conference, sponsored by the National Collegiate Conference Association and the United Nations Association of the U.S., provides students the opportunity to employ critical skills in international relations. Over 5,000 students, more than half from outside the United States, attend the conference each spring to discuss current global issues. Delegates come prepared to solve three pressing issues relevant to 21 simulated UN committees.
Kyra Murphy, a graduate student in public administration and international affairs and graduate assistant for the delegation, credits Model UN with rounding out her degrees. "Today, as I get ready to graduate from Maxwell, I can confidently attribute my oral presentation and public speaking skills, my knowledge in diplomacy and international etiquette, and my comfort in new situations to the time that I have spent with Model UN."
Dalton adds, "through Model UN I have gained skills in negotiation, public speaking, and professional writing that will help me in my future career."
The next MUN conference takes place in Washington, D.C., during the fall semester, from November 11-13. Students studying international relations are encouraged to apply. For more information, visit https://www.maxwell.syr.edu/IR_Model_UN/.