Arts & Culture
Libraries' Spring Exhibition 'Avida Dollars' Opens April 22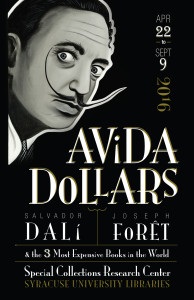 The Libraries' spring exhibition, "Avida Dollars: Salvador Dalí, Joseph Forêt, and the Three Most Expensive Books in the World," curated by Professor Emeritus Harold Jones, will open on April 22 and run through Sept. 9.
The exhibition explores the collaboration between Spanish surrealist painter Salvador Dalí and Parisian publisher Joseph Forêt to produce "the three most expensive books in the world." The books, produced between 1956 and 1963, are illustrated editions of Dante's "Divine Comedy," Cervantes' "Don Quixote" and Saint John's "Apocalypse." The materials on view are from Professor Jones' personal collection, which he has donated to the Special Collections Research Center.
A symposium, "Lope de Vega and the Modern World," will also take place on April 22 from 8:30 a.m.-4 p.m. in the Peter Graham Scholarly Commons in Bird Library. The event will honor Professor Jones and the 70th anniversary of Symposium: A Quarterly Journal in Modern Literatures.
A reception celebrating the exhibition opening and the symposium will be held on from 4–5:30 p.m. on Friday, April 22, on the sixth floor of Bird Library.
Jones is professor emeritus of Spanish in the Department of Languages, Literatures and Linguistics at Syracuse University. He joined the University in 1988, was chair of the department for nine years (1988–97) and served as program coordinator of Spanish for the following six years. His teaching and research interests include early modern Spanish poetry, drama and Don Quixote.