Campus & Community
It's On Us: Addressing Sexual Assault and Relationship Violence
In early April, the campus held the spring "It's On Us" National Week of Action, part of the White House's "It's On Us" campaign aimed at ending sexual assault on college campuses. The campaign is one of the many ways Syracuse University has continued to advance how it addresses sexual and relationship violence. Other efforts include the work of the Chancellor's Workgroup on Sexual Violence Prevention, Education and Advocacy; the formation of the Chancellor's Task Force on Sexual and Relationship Violence; the early endorsement of the Enough is Enough legislation and the University's decision to be the first private university to sign onto the Campus Accountability and Safety Act.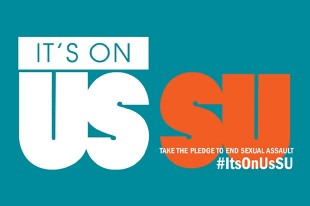 In addition to these important strides, students, faculty and staff have been leading the way in raising awareness, educating the campus community and providing critical support to those impacted by sexual and relationship violence. This network of University resources spans the Counseling Center's Sexual and Relationship Violence Response (SRVR) Team; the Office of Student Assistance; the Office of Health Promotion, Equal Opportunity, Inclusion and Resolution Services (EOIRS); the Office of Student Rights and Responsibilities; and the Department of Public Safety (DPS). Each office fulfills different roles within the network, but all provide important services in addressing sexual and relationship violence on campus. The network is led by the Sexual and Relationship Violence Coordinating Committee, comprising representatives from each office.
"While there are not yet identified best practices for responding to sexual and relationship violence on college campuses, the network we have implemented at Syracuse University is one that could serve as a model for other institutions," says Rebecca Dayton, associate vice president of student affairs. "This model not only establishes a central resource and system of support for students, but also demonstrates the importance of universitywide collaboration when addressing sexual and relationship violence."
One component of this network is the SRVR Team, a group of trained counselors within the Counseling Center who offer 24/7 privileged and confidential support, advocacy and counseling to students. Since the creation of the SRVR Team, more students have sought support than ever before. In its first year, the SRVR Team provided in-person support, advocacy and discussion of reporting options to 144 students, with an additional 38 seeking support by phone.
"It is difficult to know the exact number of students impacted by sexual and relationship violence as not all will seek services, but based on the number of students seen by the SRVR Team last year, we know that more students are seeking support via our vast resources," says Cory Wallack, director of the Counseling Center and a member of the SRVR Team. "I think this is indicative of the work our staff, peer educators, volunteers and faculty are doing to spread the word about the resources available, as well as the community's commitment to supporting victims and survivors."
In the last year, the Counseling Center also established two support groups, one focused on healthy relationships and one focused on sexual assault recovery, to provide more options for students seeking services. The SRVR Team also added a new team member with the hiring of Peggy O'Connor, a licensed clinical social worker with prior experience supporting victims and survivors of sexual violence.
Students also receive support through the Office of Student Assistance. The office provides case management and advocacy services related to sexual and relationship violence and Title IX processes. Throughout 2014-15, Student Assistance staff members provided case management services to 114 students impacted by sexual and relationship violence. Student Assistance works with survivors, respondents and witnesses to provide advocacy services such as interim relief, academic accommodations, support through informal and formal resolution processes and referrals to both on- and off-campus resources. This ongoing case management is essential to ensure students' personal, health and academic needs are being met.
Beyond the critical component of support services, reporting and resolution processes have been another important piece of this network. Students impacted by sexual and relationship violence who want to file a complaint can do so through the Title IX coordinator in EOIRS, DPS, the anonymous DPS reporting tool or local law enforcement. Students also may seek informal resolutions that provide interim relief, such as no-contact orders or changing of living arrangements. Whether a student wants to seek an informal resolution, a formal resolution, criminal charges or no further action, they have complete control over the choice.
"Every victim and survivor's path towards healing is different, and whatever path they choose, Syracuse University provides support along the way," says Susan Pasco, associate director in the Counseling Center and coordinator of the SRVR Team. "In many cases, in addition to working with a member of the SRVR Team, students can and do receive support from multiple offices throughout their healing process. If a student wants to participate in group therapy, work with a case manager, pursue a criminal complaint or file a complaint through Title IX, the network of support is available and the services are accessible throughout the student's path."
In 2014-15, the Title IX coordinator received 143 reports from students impacted by sexual assault, relationship violence, stalking and harassment. Many students chose to pursue no further action or seek informal resolutions, but for students who chose to file a formal complaint, EOIRS' Title IX staff conducted an investigation. Recognizing a need, EOIRS hired a new equal opportunity and Title IX investigator, Bernie Jacobson, to support the investigation process. As investigations are completed, the faculty and staff University conduct board, coordinated by the Office of Student Rights and Responsibilities, hears cases and determines appropriate charges.
"Our primary focus in adjudicating these cases is making sure that whatever the outcome of the process, our campus is as safe as possible for all of our students," says Pam Peter, director of the Office of Student Rights and Responsibilities. "We manage an impartial, equitable process, but the process also includes action when a student's behavior is unacceptable."
From services to resolutions, the network would not be complete without the prevention and education work led by the Office of Health Promotion. Prevention and education efforts not only inform the campus community about resources and processes, but also encourage discussion about healthy relationships and sexuality, help the community recognize the signs of potential abuse or harassment and promote bystander intervention. During the 2014-15 academic year, peer educators, student volunteers and staff provided nearly 80 educational workshops, trainings and outreach efforts, reaching more than 1,400 students. Through a partnership between the Office of Health Promotion and the Title IX coordinator, training efforts were expanded in the 2015-16 academic year, leading to even more students, student organizations, staff and faculty being reached with this critical information.
"Dedicated student peer educators go to classes, athletic teams, Greek councils—many campus spaces—to talk about why these issues happen, what they look like, what you need to know to ensure you are getting consent and what it does and does not look like, and how you can step in and be part of the catalyst of change," says Rachel Martin, a senior in the College of Arts and Sciences studying psychology and health and wellness and co-leader of the peer educator team within the Office of Health Promotion. "Dialogue is important, and I believe we are unique in that we examine the foundational and societal beliefs that perpetuate and condone these issues in our communities when we engage others in this dialogue."
Whether seeking assistance or services, aiming to raise awareness or considering reporting options, students have access to a robust network of support. While the University's progress in addressing sexual and relationship violence continues, the efforts made by many staff, students, administrators and faculty members serve as a vital reminder that all of us can play a role in ending sexual and relationship violence and supporting victims and survivors.
Students seeking support for sexual assault, harassment, relationship violence or stalking can contact the Sexual and Relationship Violence Response Team at the Counseling Center at 315-443-4715 for 24/7 confidential support, advocacy and discussion of reporting options. For 24/7 off-campus confidential support and advocacy, contact Vera House at 315-468-3260.