Interdisciplinary Perspectives on Moral Injury and Military Veterans: What Do We Need to Know, and Why?
"Interdisciplinary Perspectives on Moral Injury and Military Veterans" is a research colloquium, free and open to the public.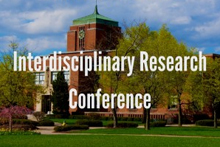 When: Saturday, April 9, from 11 a.m. to 2 p.m.
Where: Reilley Room, 4th floor Reilly Hall, Le Moyne College. Free parking nearby (see map).
What: This colloquium will bring together scholars, military veterans, student and other interested members of the Syracuse community to brainstorm questions and ideas about moral injury and military veterans, helping to set research directions for the future. The event is presented by the Moral Injury Project, and funded by the Sanzone Center for Catholic Studies and Theological Reflection at Le Moyne College. Refreshments will be provided.
Invited speakers:
Michael Venditte, an Army veteran who served in Iraq and is currently graduate student at Le Moyne College
Pamela Johnson, Moderator, PhD, LCSW, School of Social Work, Syracuse University
Frederick Glennon, PhD, Chair, Religious Studies, and Vietnam veteran, Le Moyne College
Donald Kirby, S.J., PhD, Professor of Christian Ethics, Religious Studies, Le Moyne College
Leonard Newman, PhD, MA, Department of Psychology, Syracuse University
Delia Popescu, PhD, Chair, Political Science, and Director, Peace & Global Studies Program, Le Moyne College
Robert Rubinstein, PhD, M.S., Department of Anthropology/The Maxwell School of Citizenship and Public Affairs, Syracuse University
Register for the colloquium.
The Moral Injury Project was founded in 2014 at Syracuse University after a gathering of veterans, professors, religious scholars, chaplains, mental health providers and administrators asked the question, "What are we doing about moral injury among U.S. military veterans?" We asked this question in the wake of a visit to Syracuse University by Rita N. Brock of the Soul Repair Center at Texas Brite Divinity School. Her work inspired us and we consider ourselves allies in her mission to recognize and support U.S. veterans who are looking for answers about their military service and experiences.
So as to create forward thought and action about moral injury as it impacts veterans, we work to facilitate dialogue between members of the campus communities at Syracuse University and Le Moyne College, the larger Syracuse community and military veterans and family members who have experienced moral injury.
URL: http://moralinjuryproject.syr.edu/
Contact: Pamela J. Johnson, Assistant Professor, School of Social Work, Syracuse University Falk College
The Moral Injury Project, Syracuse University
315.443.1989
pjjohn01@syr.edu