Campus & Community
A Walk for Education
The Syracuse University Chapter of the National Society of Black Engineers (NSBE) and the Delta Zeta Chapter of Alpha Phi Alpha Fraternity Incorporated would like to invite you and your organization to our annual Walk for Education on Sunday, May 1 starting at Hendricks Chapel. Doors open for sign in at 12:30 p.m. and the opening ceremony begins at 1 p.m.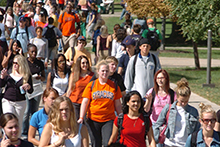 Syracuse University Chancellor Chancellor Kent Syverud and Helen Hudson, Syracuse counselor at-large and co-founder of Mothers Against Gun Violence, will be two of our guest speakers at the walk!
The Syracuse University NSBE collegiate chapter's "A Walk for Education" is a door-to-door initiative, where Syracuse University volunteers share information about college, financial aid and other information to increase the awareness of education and resources for people in the Syracuse community. The event is a great opportunity for members of the collegiate community to reach back to the younger generation or even the older generation and bridge the gap from secondary schooling to higher education. Part of NSBE's mission is to "positively impact the community" and AWFE captures this part of the mission statement by bringing awareness to those who might have been left in the dark. The walk will be followed by a reception at the Dunbar Community Center.
More than 300 volunteers attended this event last year and we wish to have just as many or even more to come out to help impact our community. Here is the link for the sign-up sheet: http://goo.gl/forms/n2sharXjqF. Volunteers can sign up as an individual or as a member of an organization. We ask that all volunteers wear apparel from their respective organization or any Syracuse University apparel.
If there are any community service or event flyers you would want included in the bags for the community, please send those to Asia Wynn at aawynn@syr.edu as soon as possible.