Campus & Community
University Supports Vera House White Ribbon Campaign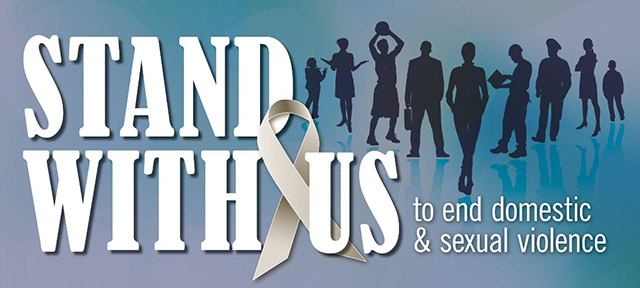 Throughout the month of March, Syracuse University has joined in support of the 22nd Annual Vera House White Ribbon Campaign.  The University's support of the campaign extends through April 15 to coincide with efforts in April including It's On Us Week of Action, which begins April 4, and Sexual Assault Awareness Month.
The campaign's theme, "Stand With Us," encourages community members to stand with Vera House to end domestic and sexual violence. The campus campaign aims to raise awareness about domestic and sexual violence, educate the campus community about domestic and sexual violence and resources, and raise funds to support Vera House. These efforts on campus are led by students, the Division of Student Affairs and the SU White Ribbon Campaign Team. In addition to events in March and April, the campaign team partnered to host a campaign pre-launch on Feb. 11 at the SU men's basketball game against Florida State. Volunteers collected donations and handed out white bracelets before the game to raise awareness about the campaign.
"The Vera House White Ribbon Campaign is a great way for our entire campus to demonstrate our support in ending sexual violence," says Bridget Yule, chair of the SU White Ribbon Campaign Team and director of Student Centers and Programming Services.  "We encourage our students, faculty and staff to join us in wearing white throughout the campaign to signify their support in ending sexual and relationship violence."
Students, faculty and staff can purchase white bracelets and lapel pins, paper pledges and laptop stickers to support the campaign.  Complete a White Ribbon Campaign order form and send to Yule or Denise Dowdall in Student Affairs to receive your campaign materials.
Vera House Inc. aims to end all domestic and sexual violence, to assist families in crisis, to support those affected by domestic and sexual violence to live safe, self-sufficient lives, to empower women and children, and to promote a culture of equality and respect in relationships.