University Invites Campus, Local Communities to Pep Rally Wednesday in Manley Arena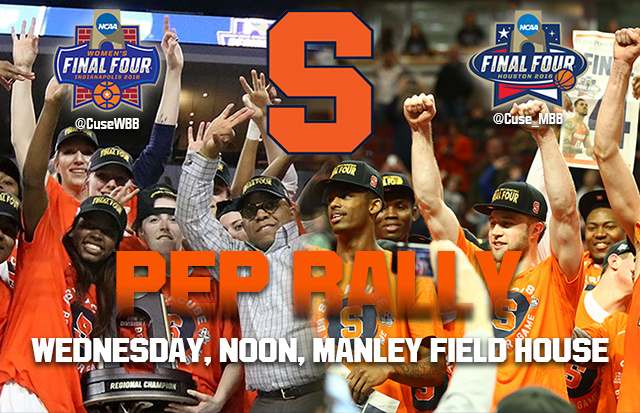 Syracuse University will host a Final Four public pep rally Wednesday, March 30, at Manley Arena to offer an enthusiastic send-off to the Orange men's and women's basketball teams as they continue their historic journey. This year's tournament is only the 12th time that one university has had both its men and women in the Final Four in the same year.
Doors open at noon, with entry through the Roy Simmons Center main entrance. The event will start at 12:30 p.m. and conclude by 1 p.m. Open public parking is in the Manley North and South lots, with additional parking and shuttle transportation at Skytop (shuttles will run from 11 a.m.-1:30 p.m.).
The men's and women's basketball teams will be on hand, along with the Spirit Squad and Otto the Orange.
Speaking at the event will be Director of Athletics Mark Coyle, women's basketball head coach Quentin Hillsman, men's basketball head coach Jim Boeheim, and Syracuse alumni New York State Lt. Gov. Kathy Hochul '80, Onondaga County Executive Joanie Mahoney '87, L'90 and Syracuse Mayor Stephanie Miner '92.
Attendees are encouraged to wear orange. General public seating will be in the arena bleachers, with floor seating for students. American Sign Language interpretation and Communication Access Real Time (CART) will be available.
Coach Boeheim's squad departs for Houston at the conclusion of the pep rally. The Orange men (23-13) face North Carolina (32-6) in the national semifinals on Saturday, April 2, at NRG Stadium. The game can be seen on TBS. Tipoff is 30 minutes after the conclusion of the 6:09 p.m. game between Oklahoma and Villanova.
Coach Hillsman's team departs Thursday for Indianapolis. The Orange women (29-7) face Washington (26-10) in the national semifinals on Sunday, April 3, at 8:30 p.m. ET at Bankers Life Fieldhouse. The game can be seen on ESPN2.