STEM
The Human Trace
The great anthropologist Loren Eiseley once compared mankind to a twisted stem of wisteria—a "rooted vine in space" on an immense, if not impossible journey. It's one that each of us must attempt, regardless of outcome.
This is the premise behind "Trace: Memory, History, Race, and the American Landscape" (Counterpoint Press, 2015), a reflective exploration by Lauret Savoy G'90, professor of environmental studies and geology at Mount Holyoke College and a Ph.D. alumna of the College of Arts and Sciences.
Like Eiseley, Savoy is a master storyteller, fascinated by the connected mysteries of lineage and legacy that shape people and the natural world we inhabit. Her work is highly imaginative, drawing on the natural and social sciences as well as the humanities. Understanding the idea of "trace" as a path and a remnant, she recounts a journey across the United States, a quest of learning more about herself and her lineage.
"Each of us is a landscape inscribed by memory and by loss," says the award-winning author from her office in Western Massachusetts. "My ancestors came from three continents—Africa, Europe and Native America—yet I've known little of them or their paths to my present."
An "Earth historian" in the business of rocks and fossils, Savoy says familial geology can also be rough terrain. Among the biggest challenges of such work, she says, is coming to terms with an "erosion of memory," due to generations of silence and displacement. "Each chapter [of the book] emerges from a place explored or a memory plumbed," says Savoy, referring to the personal journeys of enslaved Africans, European colonists and people indigenous to the United States. "It's like a spoke on a wheel, converging toward a point of understanding."
Re-Member the Time
"Trace" opens with Savoy, a child, reluctantly moving from Los Angeles to Washington, D.C. Shifting between past and present, she retraces her family's background with visits to various places as an adult—from the gnarled terrain of the San Andreas Fault to the "Indian Territory" of modern Oklahoma, from scenic Point Sublime on the North Rim of the Grand Canyon to the "old graveyards" of the mid-Atlantic, from an antebellum plantation in South Carolina to the United States-Mexico border, near where her mother served as an Army nurse during World War II.
Savoy's trip concludes in Washington, D.C., where her father died when she was a teenager. "In many ways, I've been coming to this book all my life, although I started writing it only a few years ago," says Savoy. Her book is a finalist for the PEN Open Book Award and has been nominated for a Pushcart Prize.
Born in California's Bay Area, Savoy grew up in and around Washington, D.C., during the racially charged 1970s. She hardly knew her father, who kept everything, including his feelings, close to the chest. Only after his death did she find out that he was a novelist, whose first book, "Alien Land," was originally published in 1949 to considerable acclaim. He never finished his second novel, which his publisher considered too inflammatory for publication.
Savoy's mother also was not forthcoming. That she had been stationed at Fort Huachuca in Arizona—a military installment with a sordid history of gender and racial discrimination—likely contributed to her reticence.
"These residues of silence and displacement mark us," says Savoy, who earned master's and bachelor's degrees in geology from the University of California, Santa Cruz, and Princeton University, respectively. "'Trace' offers my search for and discovery of these marks."
Savoy calls this process "re-membering"—discovering omissions and silences, and uncovering their relationship to what is or is not told as public history. "Being remembered incorrectly and being forgotten are both forms of human erosions," she explains. "I hope there is an alternative to either one or the other."
"Re-membering" suggests our identities are forged through relationships with other people. (Desmond Tutu, the retired Anglican archbishop, describes it as people becoming people through other people.) To that end, Savoy considers "Trace" as much a "memory book" as a type of "remembering." "It is the response and the act of trying to fit pieces together from what had been fragmented, shattered and eroded," she says of "re-membering." "It is a form of resistance to forgetting."
Savoy's time at Syracuse in the late 1980s coincided with the rise of "re-membering" as a narrative therapy approach. She credits her doctoral advisor, Cathryn Newton, for helping to bridge the gap between sedimentology and marine paleoecology, while giving her research a decidedly social and cultural edge. "Cathryn is an excellent teacher and advisor because she views education as a partnership, in which faculty actively share intellectual growth with students through courses, independent research and informal interactions," Savoy says. "My work now follows a very different track in environmental history and writing, but crossing disciplinary boundaries remains the key."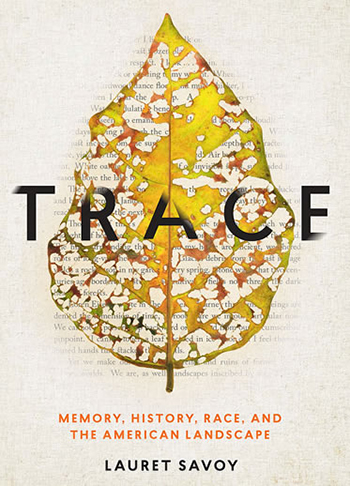 Newton returns the compliment, praising Savoy for peeling back the layers of assumption about race and inequality. "From its first pages to its last, this book holds the reader with unforgettable stories and a singularly beautiful voice," says Newton, dean emerita of Arts and Sciences, who is the University's only professor of interdisciplinary sciences and a Provost's Faculty Fellow. "This gifted writer and thinker uses her artistry to blend the voyage of discovery of her highly diverse ancestors with the evolution of the landscapes in which this voyage occurred. Some of these scenes will never leave me. It is impossible to accompany her to some of these places at the intersection of memory, race and landscape and be unchanged. I had the privilege of accompanying her into the field at the last site in the book. Her writing has such power that all readers will feel they are with her, as well."
Savoy's accomplishments at Syracuse have been well-documented—honors and awards including the Marjorie Hooker Geology Award for best dissertation proposal, frequent research trips to northern Montana and the Canadian Rockies, and a steady diet of teaching, all of which led to a fellowship at Smith College and then to her faculty appointment at Mount Holyoke, where she has been since 1990.
Savoy also credits the late Anita Harris and Eric Mountjoy, formerly with the U.S. Geological Survey and McGill University, respectively, for helping to shape her early career in geology, which now has evolved to focus on the nexus of landscape history and human experience. Much of this, Savoy says, has been informed by language—something that became evident while writing "Trace." In fact, she devotes a whole chapter to the subject ("What's in a Name"), arguing that without language, people are "lost or thrown away."
"How [the United States] came to bear those names we commonly use—New England, Mississippi, Rocky Mountains, Colorado and more—is an aspect of American history that few recognize," she says, calling place-names "living signposts" to what was important to the namers. "What's often missing from popular narratives or public histories are stories of origin and meaning of Indigenous names before Europe's arrival … and the naming practices of peoples from Africa and Asia." Yet, she solemnly adds, "Nigger" was once featured in at least 200 American place-names: "I'm sad to say that it features in many still."
Also a licensed pilot and photographer (with work featured in several books and magazine and at galleries on the East Coast), Savoy is the author or editor of several other books, including "The Colors of Nature: Culture, Identity, and the Natural World" (Milkweed Editions, 2011); "Bedrock: Writers on the Wonders of Geology" (Trinity University Press, 2006); and "Living with the Changing California Coast" (University of California Press, 2005), and has published dozens of essays, papers, columns, op-eds and book chapters.
Savoy was instrumental in getting "Alien Land" republished by the University Press of New England in 2006.  "I stumbled upon the book, late one night in the basement stacks of Princeton University's library, at the end of my first year in college," she recalls. "Yes, I stole the book, last checked out years earlier. Yes, I ran from it many times."
Happy Accidents
Savoy is now working on a project that arises from the last chapter in "Trace," which considers the origin of Washington, D.C., and its ties to her father's family. Tentatively titled "On the River's Back," the project explores what she calls the "generational landscapes" of her relatives, focusing on the time between the colonial era and the Civil War. Special emphasis is on the rise and fall of tobacco agriculture, as well as the origin and growth of Washington, D.C., along the Potomac River.
"At least five generations of paternal forebears inhabited the capital city," says Savoy, adding that her father's family was part of this rich lineage. "Earlier lives—indentured, enslaved and free—came [to the Chesapeake region] because of what colonists believed the cultivated lands could yield. … It is both a memoir of a family whose bloodlines originated on three continents [Europe, Africa and Native America] and a story of the land where they converged."
Savoy's journey is far from over. Perhaps it never will be. If anything, "Trace" offers a cautionary tale about the impermanence of life. Fossils are rare things, she reminds us. Most organisms decay and disappear after dying. Of the tiny minority that becomes preserved as fossils, a smaller fraction is exposed and visible. "Happy accidents bring these remains to me," Savoy says, whether it's a strategically placed thrust fault, a special type of erosion, or her hammer splitting the "right" layer of shale. "For the fossil and me, it's a chance moment of exposure together."
It's also an opportunity to give expression to the unvoiced past. "Have I achieved a sense of closure?" she asks, regarding "Trace." "No, and I don't think that is possible. But perhaps I am closer to understanding. … Re-membering is an alternative to extinction."