Media, Law & Policy
Syrian Accountability Project to Reveal Groundbreaking Analysis of Rape
The Syrian Accountability Project (SAP) at the College of Law will release a groundbreaking report documenting and analyzing incidents of rape during the Syrian conflict. The report will be released during a special event on March 24 at Maxwell.
Compiled using international legal standards—and with an eye toward future transitional justice for the victims—the white paper will be distributed to United Nations and other international legal organizations to support the transitional justice process for victims of rape during the Syrian conflict.
United Nations Undersecretary-General and Special Representative to the Secretary-General on Sexual Violence in Conflict Zainab Hawa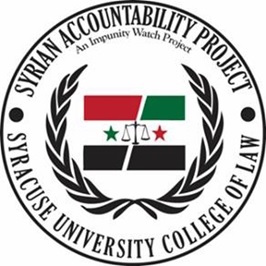 Bangura will provide keynote remarks at the white paper release event "Spotlight on Syria: The Gendered Perils of War and Forced Migration," to be held in Maxwell School's Eggers Hall, in partnership with SAP, the College of Law, and the Newhouse Center for Global Engagement.
The entire program will be live streamed at http://www.ustream.tv/channel/MaxwellSU.
Remarks and the release of the white paper will be followed by an expert panel on gender crimes in conflict in Syria and the Levant and accompanied by multimedia presentations on the conflict.
Agenda:
Keynote
Noon-1:30 p.m. ET
"International Law and Sexual Violence in the Syrian Conflict" by Bangura. Introductions by David Crane, professor of practice, College of Law; founding Chief Prosecutor of the Special Court for Sierra Leone; SAP Project Leader. Q&A to follow.
 
Syrian Accountability Project White Paper Release
2-2:30 p.m. ET
David Crane, SAP Project Leader
Peter Levrant, executive director, SAP
"Looking Through the Window Darkly: Rape in Syria, 2011-2015," featuring analysis and documentation of 142 incidents of rape occurring from the start of the Syrian conflict in 2011-2015. It is the first document of its kind to not only highlight and analyze reported accounts of this horrific gender crime, but also to apply international legal standards with an eye toward future transitional justice for the victims.
Expert Panel
2:30-4 p.m. ET                    
"Gendered Perils of War in Syria and the Levant"
Moderator: Catherine Bertini, professor of practice, Maxwell School; former executive director of the United Nations World Food Program (1992-2002)
Participants:
Bangura; Lamis Abdelaaty, assistant professor of political science, Maxwell School; Lynn Levey, Syrian Accountability Project; legal writing professor, College of Law
In addition, attendees can experience a virtual reality, 3D journey out of Syria called "Clouds over Sidra," beginning at 11:30 a.m. ET.
About the Syrian Accountability Project 
Started at the College of Law in 2011, the Syrian Accountability Project is an internationally recognized cooperative effort between activists, nongovernmental organizations, students and other interested parties to document war crimes and crimes against humanity in the context of the Syrian Crisis. Now in its fifth phase, the project aims to produce nonpartisan, high-quality analysis of open source materials and to catalog that information relative to applicable bodies of law, including the Geneva Conventions, the Rome Statute of the International Criminal Court and Syrian Penal Law.
About Zainab Bangura, Special Represenative of the UN Secretary-General on Sexual Violence in Conflict
Bangura has more than 20 years of policy, diplomatic and practical experience in the field of governance, conflict resolution and reconciliation in Africa. She served most recently as minister of health and sanitation for the government of Sierra Leone, and she was previously minister of foreign affairs and international cooperation, the second woman in Sierra Leone to occupy this position. She also was chief adviser and spokesperson for the president on bilateral and international issues. Bangura has been instrumental in developing national programs on affordable health, advocating for the elimination of genital mutilation, managing the country's Peace Building Commission and contributing to the multilateral and bilateral relations with the international community. She has deep experience engaging with state and nonstate actors on issues relevant to sexual violence, including engaging with rebel groups.