Arts & Culture
Spaces Available for Trip to Explore Negro League, Afro-Latin Baseball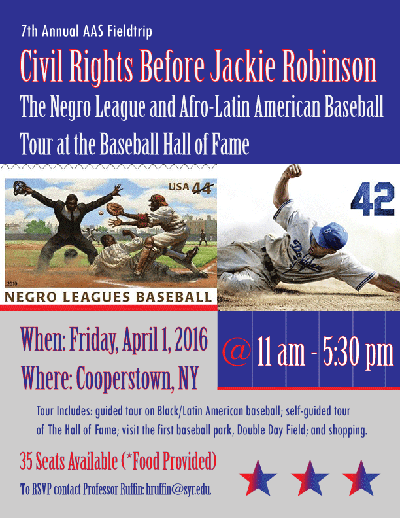 The Department of African American Studies (AAS) is sponsoring a trip to the Baseball Hall of Fame in Cooperstown, N.Y., with the theme "Civil Rights Before Jackie Robinson: The Negro League and Afro-Latin American Baseball." This will be the seventh annual AAS field trip.
The trip will take place on Friday, April 1, from 11 a.m. to 5:30 p.m. The tour will include a guided tour on Black and Latin American baseball, a self-guided tour of the Baseball Hall of Fame; a visit to the first baseball park, Doubleday Field; and shopping. Entrance fees and food will be paid for.
Eighteen seats remain available on the bus for any Syracuse University student. Reservations must be made by March 29. To RSVP, contact Professor Herbert Ruffin at hruffin@syr.edu.