Campus & Community
Singers Needed for Research Study
We are conducting a research study to examine the physiological and acoustic characteristics of singers. We are recruiting students (undergrad and grad) who are currently enrolled in either the Setnor School of Music or the Musical Theater Program in the School of Drama.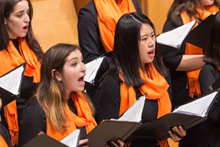 As part of the evaluation procedures, participants will receive a free endoscopy screening of the larynx, as well as a general acoustic voice screening. In addition, ultrasound of some laryngeal regions will be performed. The study will consist of two visits to the Voice Physiology Lab located at 621 Skytop, with each visit lasting approximately one hour. Compensation of up to $25 will be given after completion of all study procedures.
If you are interested in this study, please contact Carly Jo Hosbach-Cannon MS/CCC-SLP (chosbach@syr.edu) at 315-443-3448.
Contact: Carly Jo Hosbach-Cannon
Department of Communication Sciences and Disorders
315-443-3448
chosbach@syr.edu