Campus & Community
'It's On Us' Week of Action Includes Visit by White House Advisor on Violence Against Women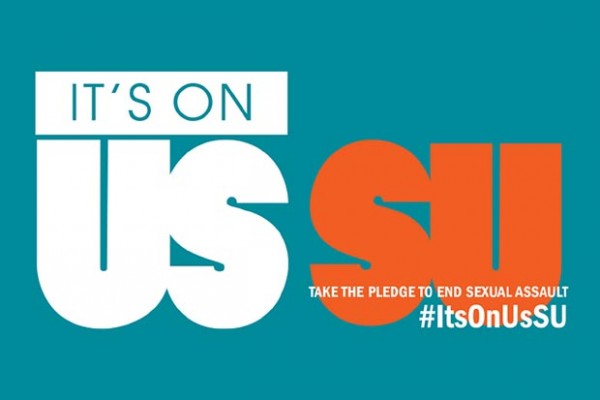 A visit by the White House advisor on violence against women will highlight the many events planned for the "It's On Us" National Week of Action. The week of events was organized by the "It's On Us" Week of Action planning committee, composed of student activists and select members of the Chancellor's Task Force on Sexual and Relationship Violence.
The week of action begins Wednesday, March 30, with a Take Back the Night rally, and continues into the following week with awareness events that include speakers, an open mic night, a workshop and a showing of the documentary "The Hunting Ground."
White House Advisor Caroline "Carrie" Bettinger-López, who coordinates the administration's efforts to reduce domestic violence, sexual assault and gender violence issues, will speak before the documentary presentation on Monday, April 4. The documentary examines the issue of sexual assault on college campuses.
Bettinger-López is a senior advisor to Vice President Joseph Biden L'68 and serves on the White House Council on Women and Girls. A leading advocate for gender-based equality and human rights, she is the founder and director of the Human Rights Clinic at the University of Miami School of Law, where she served as an associate professor of clinical legal education.
Developed by the Center for American Progress with the White House, the "It's On Us" campaign is a national effort focused on getting people to rethink how they view sexual assault in that everyone has a role to play in ending sexual violence.
Syracuse University signed on with the campaign and held a National Week of Action last fall, which included a visit by Vice President Biden. The "It's On Us" National Week of Action takes place at universities and colleges across the country to empower and engage college students in the prevention of sexual assaults on campus.
"We continue to raise awareness of this critical issue for the entire University community, and the presence of Carrie Bettinger-López brings home the national level of concern devoted to helping prevent sexual and relationship violence," says Senior Vice President and Dean of Student Affairs Rebecca Reed Kantrowitz, co-chair of the Chancellor's Task Force on Sexual and Relationship Violence.
As part of the University's efforts to address the issue of sexual violence, the Chancellor's Task Force on Sexual and Relationship Violence was established last year to review sexual assault and relationship violence services, policies and programs on campus every semester.
Along with the work of the task force, the Division of Student Affairs has instituted many new initiatives in sexual and relationship violence prevention. The division has created new support groups, organized educational programs and events around the subject of informed consent and provided detailed information to faculty, staff and students about Title IX.
"'It's On Us' Week of Action is a time for the SU community to demonstrate its commitment to ending sexual and relationship violence," says Dean of the School of Education Joanna Masingila, task force co-chair. "Many people across campus engage in this work all year long, and the Week of Action is a time to shine a light on this work and make sure that everyone is aware of the importance of each of us doing our part."
As part of the "It's On Us" national campaign, 17 college students were appointed to the campaign's Student Advisory Committee. Samantha Skaller, a junior in the College of Visual and Performing Arts, was one of those students named to the committee, which is charged with delivering the campaign message to campuses nationwide. Skaller, along with peer educators in the Office of Health Promotion and the Syracuse "It's On Us" student team, work to promote the ideals of the campaign.
"It is our responsibility as either an ally, survivor or empowered bystander to change the way we think about sexual assault on college campuses," Skaller says. "I encourage the SU community to join me and other student activists during the national 'It's On Us' Week of Action to break the silence surrounding sexual assault at Syracuse University."
The following is a list of the National Week of Action events:
Wednesday, March 30
Take Back the Night event—7 p.m., Hendricks Chapel
The event includes a rally, march and a speak out against sexual and relationship violence.
Along with the Office of Health Promotion, the co-sponsors of the event are Omega Psi Phi Fraternity, Kappa Phi Lambda Sorority, Lambda Phi Epsilon, Theta Chi, Z89 Radio, Project G.R.I.N.D, Hermandad de Sigma Iota Alpha, Sigma Gamma Rho Sorority, Kappa Kappa Gamma, Alpha Phi Alpha Fraternity, Main Squeeze, Haitian American Students Association, Syracuse National Women's Law Student Association, Phi Sigma Sigma, Delta Delta Delta, Students Advocating Sexual Safety and Empowerment, OttoTHON, the Newhouse School, Gamma Phi Beta, Delta Gamma Fraternity, Health Services, Alpha Phi, Multicultural Greek Council, Sigma Phi Epsilon, Sigma Alpha Iota, Phi Delta Theta, Pride Union, Delta Tau Delta, Alpha Xi Delta, Syracuse Club Swimming, Phi Kappa Theta, Alpha Epsilon Phi, Psi Upsilon, Delta Phi Epsilon, Pi Kappa Alpha, Alpha Gamma Delta, Nourish International, JERK Magazine, Fiji and Vera House.
Monday, April 4
"The Hunting Ground" Screening and Panel Discussion, with special guest Caroline "Carrie" Bettinger-López, the White House Advisor on Violence Against Women—7 p.m., Stolkin Auditorium, Physics Building
This documentary follows college sexual assault survivors pursuing both their education and justice, despite ongoing harassment and the devastating toll on them and their families.
The event will include remarks by Bettinger-López, who as a litigator and an advocate has fought for the protection of victims of domestic violence. Prior to her legal career, she was involved in social services advocacy and youth education centered on women and girls' empowerment, as well as anti-violence programming.
Screening of "The Hunting Ground" and panel discussion will be followed by an SU Rising candlelight vigil on the Hendricks Chapel steps.
Tuesday, April 5
It's On Us Tabling—10 a.m.-2 p.m., Schine Student Center
Find out more information about the national "It's On Us" campaign and how to get involved. Volunteers will be handing out teal ribbons, informational pamphlets, bracelets and much more. Stop by to also take photos and to take the pledge to stop sexual assault on college campuses.
Teal Tuesday—All Day, Entire Campus/Community
All members of the Syracuse University community are invited to participate in "Teal Tuesday!" Students, faculty and staff are encouraged to wear teal to show their support for sexual assault survivors.
"Breaking the Silence" Open Mic Night run by A Men's Issue—7 p.m., Grant Auditorium
Wednesday, April 6
It's On Us Tabling—10 a.m.-2 p.m., Schine Student Center
Tiq & Kim Milan, Annual Transgender Day of Liberation celebration speakers—7 p.m. Maxwell Auditorium
Tiq and Kim Milan, Black queer and trans* partners in life and in work, will give voice to the lives, identities, possibilities and experiences of trans* communities. Tiq and Kim will highlight the revolutionary power of love, share insights gleaned from their work (community-based education and advocacy) and tell their stories of hope.
Thursday, April 7
It's On Us Tabling—10 a.m.-2 p.m., Schine Student Center
Art installation on the Shaw Quad—All day
Stop by the Shaw Quad to see a visual representation of the intersection of alcohol and sexual assault. The display will highlight the fact that over 50 percent of college sexual assaults involve alcohol and that alcohol is the number one tool used by perpetrators to commit sexual violence. [Editor's update: This event has been postponed due to weather.]
Friday, April 8
Breakthrough Workshop—2:30-5 p.m., Hall of Languages, Room 214
Workshop participants will discuss what gender norms are most prevalent and harmful on campus, how gender norms are linked to sexual assault and other forms of violence, and how to take action to change them through the power of storytelling.
The workshop is facilitated by Breakthrough (http://us.breakthrough.tv), a global human rights organization based in New York City and New Delhi working to make violence against women and girls culturally unacceptable.
Students wanting to attend must R.S.V.P. to Pam Peter by Friday, April 1, at papeter@syr.edu.
Follow "It's On Us" events on Instagram at ItsOnUs_Cuse, Snapchat at ItsOnUs_SU, Twitter using #ItsOnUsSU and on Facebook at https://www.facebook.com/itsonuscuse/.