Health & Society
Fourth Annual 'Cripping' the Comic Con Symposium on April 1
A groundbreaking event in the Comic Con genre, the fourth annual "Cripping" the Comic Con Symposium, will take place on Friday, April 1, from 8:30 a.m. to 8:30 p.m. in 304ABC and Panasci Lounge, Schine Student Center. The event is free and open to the public.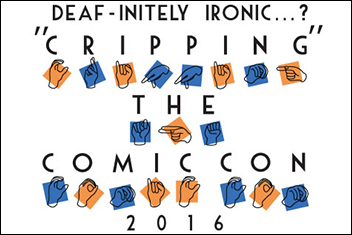 "Cripping" the Comic Con uniquely combines a conference and comics convention that not only engages participants in reflective discussions about the representations of disability "beneath the surface" and explicitly within mainstream popular culture, but also provides an opportunity for students, faculty, staff and community members to present work. Each year, the symposium features a variety of presentations, discussions, performances and art created by campus community members.
This year's theme, "Deaf-initely Ironic … ?," explores the ways in which irony and humor reflect and create understandings and interpretations of disability in popular culture. With emphases on irony, humor and deaf cultural pride, the symposium aims to examine how humor and irony serve to critique, amplify and disrupt popular cultural understandings of disability by and about people with disabilities, allies and friends.
This year's symposium will feature two keynotes and a plenary session with an esteemed panel.  Breakout sessions, workshops and the unveiling of the newest Access Avengers superhero will take place throughout the day. The full lineup of events will be available soon on the "Cripping" the Comic Con website.
"This year's 'Cripping' the Comic Con is one for the ages," says Diane Wiener, director of the Disability Cultural Center (DCC) and co-coordinator of the symposium.  "We have an unprecedented plenary session, celebrated authors, illustrators and comics, a revolutionary Access Avengers unveiling and a host of accessible presentations, workshops and materials that are sure to provide attendees with ample opportunities to reflect upon, engage in and celebrate disability culture within popular culture."
Keynotes
Matt and Kay Daigle, creators of webcomic "That Deaf Guy"
The Daigles' talk, titled "How I Met that Deaf Guy, How I Met that Hearing Girl," will focus on their experiences.  The Daigles created 'That Deaf Guy" as a way to share their real-life stories and experiences with the world. 'That Deaf Guy" comic strip features Desmond, "That Deaf Guy," his wife, Helen, who is an interpreter for the deaf, and Cedric, their four-year-old bilingual son who uses his dad's deafness and his mom's overworked schedule to his fullest advantage.
Cece Bell, author and illustrator of 'El Deafo,' Newbery Honor recipient
Bell will participate via Skype for a talk titled "Writing on my Own Behalf: The Creation of 'El Deafo' and Its Impact on Myself and Others." In 2015, "El Deafo" was chosen as a Newbery Honor Book, a prestigious literary recognition presented to authors with distinguished contributions to American literature for children. "El Deafo" is a graphic novel memoir chronicling Bell's hearing loss at a young age and the experiences with the Phonic Ear. Harnessing the power of the Phonic Ear, "El Deafo, Listener for All," is created.
Plenary Session
Panelists will include:
Diane Wiener, director of the DCC, moderator
Matt and Kay Daigle, creators of Webcomic 'That Deaf Guy'
Kanisha Ffriend '16, author, "I, Too, Am a Dancer"
Kate Pollack G'16, master's student, cultural foundations of education and disability studies
Carlisle Robinson, cartoonist and creator of "The Satrians"
Gilles Stromberg '12, co-creator and illustrator of "The Access Avengers"
The plenary session, titled, "Notes from the Field," will ask panelists, and the audience, to focus on the following three questions, among others:
Why is "Cripping" the Comic Con important to you?
What does it mean to you to identify as an artist who is part of the deaf cultural world and/or disability rights world?
In what ways would you describe your roles and life as an artist?
The symposium is accessible by elevator. American Sign Language (ASL) interpretation will be provided for the entire symposium, and Communication Access Realtime Translation (CART) will be provided during the keynote addresses and plenary session. Registration and other accommodation requests can be submitted on the online "Cripping" the Comic Con registration form.  Accommodations must be requested by March 25.  Registrations will also be accepted on-site the day of the symposium.  Off-campus participants are welcome to park in the Booth Garage and should email the DCC for more information.
In addition to the symposium, the DCC is partnering with Orange After Dark to host a second screening of Disney/Pixar's Academy Award-winning "Inside Out" on April 1. The screening will be open-captioned and audio-described. Inclusive snacks will be available beginning at 9:15 p.m., the film will start at 10 p.m., and a discussion will occur at midnight.  The screening will be shown in Gifford Auditorium.
The symposium is co-sponsored by the DCC, within the Division of Student Affairs, the Center on Human Policy, within the School of Education, and the Disability Student Union.
For more information or questions, visit the "Cripping" the Comic Con website or email the DCC.