Dive into Issue of Food Waste with Screening of 'DIVE!' Documentary
Greenpeace SU and Students of Sustainability will sponsor a free screening of the food waste documentary "DIVE!" on Thursday, March 10, at 7 p.m. in Watson Theater.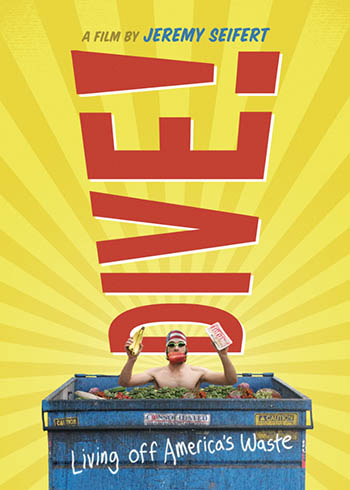 The award-winning documentary follows filmmaker Jeremy Seifert and friends as they dumpster dive in the back alleys and gated garbage receptacles of Los Angeles' supermarkets. In the process, they salvage thousands of dollars of good, edible food.
Every year, Americans throw away 96 billion pounds of food. Seifert was inspired by America's careless habit of sending edible food straight to landfills, so "DIVE!" raises important questions about hunger and waste in our society. The film works to be equal parts entertainment, guerrilla journalism and call to action.
"I hope the documentary screening will generate a conversation about the widespread nature of food waste, why it's part of the direction where the politics of food are going, and why it's important to be conscious of that," says Hasmik Djoulakian, founder and president of Greenpeace SU, a chapter of Greenpeace USA. Greenpeace SU is a campus organization that looks at community, environmental justice and anti-oppression issues at Syracuse University
Food waste is a global issue that spans environmental, social and economic factors and is expected to worsen as the world's population increases. In September 2015, U.S. Department of Agriculture Secretary Tom Vilsack and Environmental Protection Agency Administrator Gina McCarthy announced the United States' first-ever national food waste reduction goal, calling for a 50 percent reduction by 2030.
"I hope that people will become more conscious of food waste in their own lives, in dining halls, and see throwing away a half-full plate as a tragedy connected to more structured flows of food and money," says Djoulakian. SU dining centers compost pre- and post-consumer scraps and donate leftover food to the SU/ESF Food Recovery Network, a student movement that uses donated leftovers to reduce food waste while feeding those in need. Djoulakian hopes the event will be an opportunity for students and community members to connect on issues of food waste and food sustainability.
This is a waste-free event, so attendees are encouraged to bring any items they need such as reusable silverware, napkins or Tupperware. There will be refreshments provided. Doors open at 6:45. The film is 45 minutes, and there will be a Q&A afterwards. The event is open to the public.
See the event on Facebook. For more information, visit the Greenpeace SU Facebook page or the Students of Sustainability Facebook page.
Story by Alison Gibson G'16, a public relations intern with the Sustainability Division