Arts & Culture
Cruel April 2016 Kicks Off at Point of Contact Gallery
Cruel April, Point of Contact's annual poetry event, will open to the public on April 7 at the Point of Contact Gallery in downtown Syracuse. The program will host poetry readings on every Thursday in April at 6 p.m., followed a reception and dialogue with the poets in commemoration of National Poetry Month. Cruel April also marks the release of a new poetry collection by Point of Contact: "Corresponding Voices" (Vol.9), edited by Pedro Cuperman and Jules Gibbs. A month-long Poetry Book Fair will also be held to showcase published works by Central New York poets. All events are free and open to the public at the Point of Contact Gallery located in the ground floor of the Nancy Cantor Warehouse, 350 W. Fayette St., Syracuse, 13204.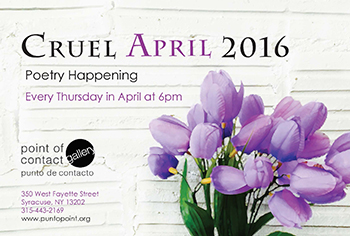 The ninth volume of Point of Contact's annual poetry collection features a textual reunion of four poetic voices from Jane Spring and Caitlin Vance to Yusef Komunyakaa and Santee Frazier. All "Corresponding Voices" poets will be featured throughout the poetry reading series, along special guest poets from the Central New York region.
This program is possible thanks to the support of the College of Arts and Sciences and the Coalition of Museum and Art Centers (CMAC) at Syracuse University, in addition to the Department of Languages, Literatures and Linguistics, and the New York State Council on the Arts (NYSCA). The Upstate NY Verve event that concludes the program is in collaboration between Point of Contact and the Downtown Writer's Center of the YMCA Arts Branch.
Cruel April Series 2016:
April 7: Reading by Jane Springer and Caitlin Vance
Spring was born in Lawrenceburg, Tenn., and raised in the South. She earned a Ph.D. at Florida State University. "Dear Blackbird," a poetry collection she published in 2007, won the Agha Shahid Ali Prize from the University of Utah Press. Springer published her second collection, "Murder Ballad," in 2012 and received the Beatrice Hawley Award from Alice James Books. She has also honored a Pushcart Prize, an NEA Fellowship, a MacDowell fellowship, Best American Poetry Prize and a Whiting Writers' Award. Springer is now teaching literature and creative writing at Hamilton College.
Vance is currently astudent in the creative writing M.F.A. program. Her poems and fiction have appeared in Tin House, The Southern Review, ZYZZYVA, The Literary Review, NightBlock, Spoon River Poetry Review and BOAAT.
April 14: Reading by Yusef Komunyakaa
Komunyakaa was born in Bogalusa, La., where he was raised during the beginning of the Civil Rights movement. In 1977, Komunyakaa published his first book of poems, "Dedications & Other Darkhorses." "I Apologize for the Eyes in My Head" (1986), which he followed with two other poetries, won the San Francisco Poetry Center Award. "Dien Cai Dau" (1988) was the winner of the Dark Room Poetry Prize. "Neon Vernacular: New & Selected Poems 1977-1989" (1994), received the Pulitzer Prize and the Kingsley Tufts Poetry Awards. His books also include "Thieves of Paradise" (1998), "Taboo: The Wishbone Trilogy, Part 1" ((Farrar, Straus and Giroux,2006), "Warhorses" (2008), "The Chameleon Couch" (Farrar, Straus and Giroux, 2011) and most recently "The Emperor of Water Clocks" (Farrar, Straus and Giroux, 2015).
Komunyakaa has been the recipient of numerous awards, including the William Faulkner Prize (Université Rennes, France), the Ruth Lilly Poetry Prize, the Kingsley Tufts Award for Poetry, the Shelley Memorial Award and the Wallace Stevens Award. He is also the author of several plays, performance literature and librettos, including "The Deacons," "Saturnalia," "Weather Wars," "Wakonda's Dream," "Testimony" and "Gilgamesh."
Komunyakaa is currently a global professor and Distinguished Senior Poet at New York University.
April 21: Reading by Santee Frazier
Frazier came from the Cherokee Nation of Oklahoma. He earned a B.F.A. from the Institute of American Indian Arts and an M.F.A. from Syracuse University. In 2009, he debuted his first collection of poems, "Dark Thirty" in the Sun Tracks series, published by the University of Arizona. His writing has appeared in several U.S. and international publications, including American Poet, Narrative Magazine, Ontario Review and Ploughshares. He has received various awards, including the Truman Capote Scholarship from the Institute of American Indian Arts Creative Writing Program in 2001, Lannan Foundation Residency Fellowships in 2009, School for Advanced Research Indigenous Writer in Residence January in 2011 and Native Arts and Culture Foundation Literature Fellowship in 2013.
Frazier's writings examine the intersections between the native life and contemporary America, with an uncompromising view toward beauty and truth. Frazier is currently a writer and instructor at Syracuse University, in addition to his duties as a faculty mentor in poetry and advisor at the Institute of American Indian Arts.
April 28: Upstate NY Verve
Point of Contact's poetry series will conclude with a special event by guest poets featured in the newly released Stone Canoe 2016.