Media, Law & Policy
College of Law Hosts 62nd Annual National Conference of Law Reviews
The College of Law's Syracuse Law Review is hosting the 62nd Annual National Conference of Law Reviews (NCLR) from Thursday, March 31, through Saturday, April 2. The conference will attract over 150 editors and leaders representing law reviews from over 40 colleges and universities throughout the United States.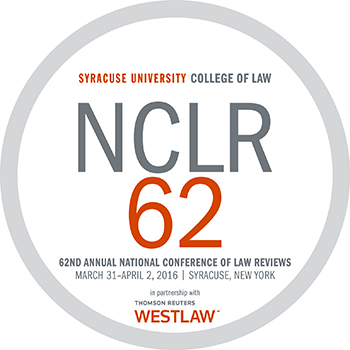 The conference is an opportunity for law review editors to exchange ideas on issues common to student-edited law journals. NCLR participants will hear from a number of noted speakers and participate in educational sessions on authoring and editing content, leveraging new technologies to better manage and market law reviews, the impact of participating in a law review beyond law school and many other topics. This is the first time the College of Law has hosted the national event.
The program's keynote speaker is Eugene Fidell, a senior research scholar in law and the Florence Rogatz Visiting Lecturer in Law at Yale Law School who is the 2016 Order of the Coif Distinguished Visitor. Fidell will speak on March 31 at 7:15 p.m. in the Gray Ceremonial Courtroom in Dineen Hall. The talk is open to all University faculty and staff.
The National Conference of Law Reviews is a voluntary organization of law reviews in the United States, Canada and Puerto Rico. The NCLR is devoted to helping its members to better serve both the academic and legal communities.