Black Celestial Choral Ensemble Hosts Annual GospelMania! March 5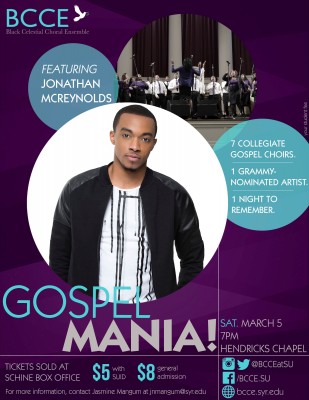 The Black Celestial Choral Ensemble (BCCE) ministers to the community—both the campus and Syracuse communities—with their voices in harmony to beloved gospel songs.
They will bring their gifts to the Hendricks Chapel stage for the Black Celestial Choral Ensemble's third annual GospelMania! concert this Saturday, March 5, at 7 p.m.
This unique event, the only one of its kind on Syracuse's campus, celebrates the art and ministry of gospel music. This year's concert features guest college gospel choirs from Onondaga Community College, Buffalo State, SUNY Cortland and Ithaca College, and Grammy-nominated gospel artist Jonathan McReynolds.
The BCCE, which holds events throughout the year, is Syracuse University's only gospel choir and is celebrating its 39th year as a student-organized choral ensemble.
"Through songs such as 'I Will Bless The Lord' by Hezekiah Walker, 'You Are An Heir' by Donald Lawrence and the Tri-City Singers, and 'Celebrate The King' by Ricky Dillard and New G, the Black Celestial Choral Ensemble works to deliver messages of hope and faith to our audiences," says Maya M. Lobban '16, public relations chair for the Black Celestial Choral Ensemble and a senior public relations major at the S.I. Newhouse School of Public Communications.
"Our goal is always to uplift the name of Jesus Christ through our songs, and to hopefully let someone listening know that she or he is not alone," Lobban says.
Lobban has been in BCCE since her first year on campus. She was on the committee that planned the first GospelMania! and has remained involved since then.
"Now, in our third year of the event, I am excited to see how it has grown since its inception," Lobban says.
For Lobban, the BCCE is a family.
"We are not a big group and we spend a lot of time together, so we are very close and keep each other accountable," Lobban says. "Even after graduation, members of the choir remain good friends and come together for big events."
Tickets for the GospelMania! event are on sale at the Schine Box Office for $5 for students with an SU I.D. and $8 for Syracuse University faculty and staff and the general public.