Campus & Community
A Cappella Concert Featuring College of Law Dean Banks to Benefit CNY Homeless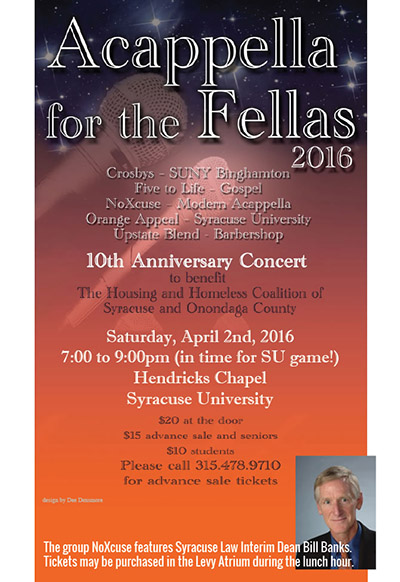 Five area a cappella groups will perform Saturday, April 2, from 7-9 p.m. at Hendricks Chapel. "A cappella for the Fellas 2016" will benefit the Housing and Homeless Coalition of Syracuse and Onondaga County.
One of the groups, NoXcuse, features College of Law Interim Dean William Banks performing in its modern approach to a cappella. Other groups participating include: Orange Appeal (Syracuse University), Five to Life (gospel), Upstate Blend (barbershop) and The Crosbys from SUNY Binghamton.
After the concert, the men's basketball Final Four game against North Carolina will be shown in Hendricks.
Tickets are $20 at the door, $10 for students.