Campus & Community
25 Days of Fitness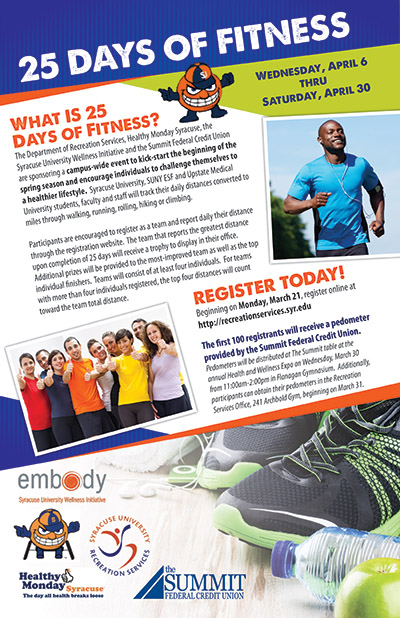 The Department of Recreation Services, Healthy Monday Syracuse, the Syracuse University Wellness Initiative and the Summit Federal Credit Union are sponsoring a campuswide event to kick-start the beginning of the spring season and encourage individuals to challenge themselves to a healthier lifestyle. Syracuse University, SUNY ESF and Upstate Medical University students, faculty and staff will track their daily distances converted to miles through walking, running, rolling, hiking or climbing.
Participants are encouraged to register as a team and report daily their distance through the registration website. The team that reports the greatest distance upon completion of 25 days will receive a trophy to display in their office. Additional prizes will be provided to the most improved team as well as the top individual finishers. Teams will consist of at least four individuals. For teams with more than four individuals registered, the top four distances will count toward the team total distance.
The competition will take place from Wednesday, April 6, through Saturday, April 30. Registration takes place at http://recreationservices.syr.edu.
The first 100 registrants will receive a pedometer provided by the Summit Federal Credit Union.  Pedometers will be distributed at the Summit table at the annual Health and Wellness Expo on Wednesday, March 30, from 11 a.m.-2 p.m. in Flanagan Gymnasium. Additionally, participants can obtain their pedometers in the Recreation Services Office, 241 Archbold Gym, beginning on March 31.