Veterans
Whitman Ranked No. 5 in Military Times' 'Best for Vets' Business School Ranking
The Martin J. Whitman School of Management is the No. 1-ranked private business school for veterans, and has been ranked No. 5 by Military Times in its 2016 list of Best for Vets: Business Schools, the publication announced Feb. 8.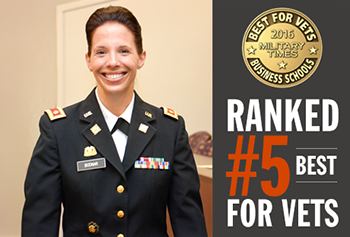 The organization, comprising Army Times, Navy Times, Air Force Times and Marine Corps Times, focused on culture and curriculum that caters to military veterans when conducting and scoring the second annual Best for Vets: Business Schools survey, a highly respected, nearly 80-question analysis of a school's complete offerings for veterans.
Best for Vets provides men and women a gauge by which to judge whether a school or program will truly benefit them. The rankings factor in academic quality, outcomes and policies, school culture, student support and cost. For the full Best for Vets: Business Schools 2016 rankings, go to: http://bestforvets.militarytimes.com/.
Since 1952, Whitman has offered educational programs serving military members and veterans. "Our more than 60-year collaboration with the Department of Defense (DoD) in the delivery of financial management education to military and DOD civilians has been a privilege, and we look forward to many more years of partnership in preparing our future leaders," says Irma P. Finocchiaro, director of executive education and defense programs at the Whitman School.
"This ranking reflects both the hard work and commitment of the Whitman School team, and also Syracuse University's institution-wide commitment to become the nation's best university for military students and veterans," says Mike Haynie, vice chancellor for military and veteran affairs and Barnes Professor of Entrepreneurship. "The MBA@Syracuse program is a great example of the kind of class-leading innovation we're pursuing across the University, in an effort to broadly engage and empower the military-connected community."
One of the Whitman School's newest offerings, MBA@Syracuse, is a newly revamped online M.B.A. program, which is proving popular among active military personnel as well as veterans.
"We welcomed our first MBA@Syracuse cohort a year ago; today 26 percent of the students are military students and veterans," says Amy McHale, assistant dean for graduate programs for the Whitman School. "From an IT consultant with the U.S. Army to an instructor of meteorology for the U.S. Air Force, we are helping to educate our military, allowing them to advance their education while continuing their career growth. We also realize that many of our students are seeking an M.B.A. to prepare them for the transition to the civilian workforce after they have completed their service."
Additional educational opportunities for military and civilian personnel at Whitman include the Defense Comptrollership Program (DCP) which more than 1,600 military and civilian personnel have attended; and the LOGTECH iMS, a Master of Science degree in supply chain management. The Whitman School also offers an accelerated M.B.A. for Veterans program (54 credits spanning a 14-month period) that helps students gain expertise in an area of entrepreneurship that is most related to their field of leadership and innovation. The school offers short courses, as well, including the Army Comptroller Course (ACC), the Executive Comptroller Course (ECC), the Senior Resource Managers Course (SRMC) and Army Financial Management 101.