Campus & Community
University Enjoying Healthy Benefits of Smoke- and Tobacco-Free Campus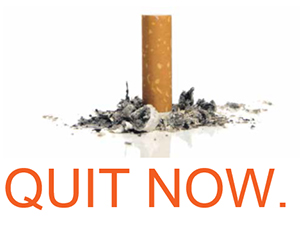 Nearly eight months have passed since Syracuse University put into effect a new tobacco-free campus policy—a clear expression of the University's investment in the health and well-being of its members in promoting respect for others and the environment while aligning closely with the institution's new and ongoing wellness initiatives.
And the signs of progress are both visible and invisible.
The visible: 86 informational signs acknowledging (and reminding of) the University's tobacco/smoke-free status are prominently displayed throughout North Campus, South Campus and SU's downtown locations, along with 33 bus shelter decals.
The invisible: quite simply, cleaner air.
Also not seen—because they're gone—are the many cigarette butt receptacles that used to dot University property. They were all removed on July 1, 2015, with the implementation of the new policy that prohibits smoking and the use of all tobacco products—including cigarettes, cigars, snuff, pipes, chewing tobacco and products that imitate the act of smoking, such as vapor cigarettes—on all property owned, leased or managed by the University, including outdoor spaces and University-owned vehicles.
The Carrier Dome, Sheraton Syracuse University Hotel and Conference Center, Drumlins and Syracuse Stage are smoke-free inside; outside spaces at those venues are exempt from the policy during events and are planned to be phased in by July 2017.
While the principal result of this comprehensive effort—a healthier learning, living and working environment—is impressive, it's important for members of the University community to remain proactive in helping to shift the culture to a tobacco/smoke-free campus, says Gail Grozalis, executive director of wellness for faculty and staff.
"We understand that it takes time to gain full compliance with a tobacco-free campus policy," Grozalis says. "It's about shifting the culture. Approaching individuals who are currently violating the policy with a firm yet compassionate approach will go a long way in helping to create a sustainable, supportive tobacco-free campus environment and improving compliance over time."
Grozalis recommends the use of the S.M.O.K.E. tips when approaching someone smoking on campus who may not be aware of the policy:
S: "Smile" and introduce yourself.
M: "Make the assumption that the person doesn't know the policy.
O: "Offer" resources for tobacco cessation.
K: "Kindly" remind the person of the tobacco-free policy.
E: "Enforce" the policy: Ask the person to stop using the tobacco on campus.
Additional resources for communicating the policy are available in helpful toolkits to assist students, supervisors and employees that can be found on the Tobacco-Free Campus website. And pocket informational cards can be requested by calling 443-5472 or emailing wellness@syr.edu.
"Along with being mindful of the on-campus policy, it's important that we also all remain respectful and considerate of the local businesses and neighbors who are adjacent to campus," Grozalis says.
The harm caused by smoking and the positive effects of quitting are well documented.
Resources are available for those who want help in quitting tobacco products:
Students can access one-on-one tobacco cessation counseling through Health Services.
All benefits-eligible faculty, staff, graduate assistants and retirees, as well as their dependents, can access free telephonic or face-to-face tobacco cessation counseling through Carebridge (on the website use the University access code of WY6CE or call 1-800-437-0911 24 hours a day, seven days a week for services).
Faculty, staff and students who are New York state residents have access to free nicotine replacement therapy (nicotine patch) through NYQuits (1-866-697-8487).
SU is one of many academic institutions across the country that have gone tobacco and smoke free. According to the online resource no-smoke.org, as of Jan. 1, a total of 1,475 campuses had gone smoke free. Of these, 1,128 are 100 percent tobacco free and 802 prohibit the use of e-cigarettes anywhere on campus.
For more information on the tobacco/smoke-free campus and other University wellness initiatives, visit http://wellness.syr.edu/.