Campus & Community
Syracuse Yearbook Staff Currently Selling 2016 Editions
This semester, Syracuse University's yearbook staff continues to sell the 2016 edition of the school yearbook, "The Onondagan."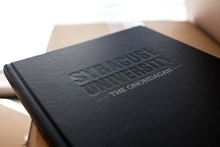 The yearbook features 185 full-color pages and includes coverage of Syracuse University student life, athletics and academics. The book also includes a special senior section with professional portraits of all students who sat during portrait sessions with Lifetouch photography as well as profiles of stand-out students from the class of 2016.
The words and photographs in this year's "Onondagan" touch on the past four years at Syracuse, making it an ideal piece of memorabilia for any graduating senior.
Yearbooks can be purchased at any time by visiting jostensyearbooks.com. They currently cost $84.99.