Campus & Community
SU Student Will Screen First Documentary 'Black en Spain'
"Black en Spain" is a documentary about discovery, identity and living life to the fullest. Created by Syracuse University senior Danielle Reed, dual African American Studies and Spanish major, the film follows 13 adventurers currently living in Spain.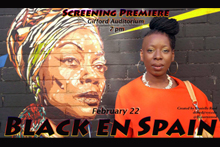 Their unapologetic and genuine experiences, and reasons for pursuing a life in a land other than their own are connected and interwoven by threads of the African diaspora. Filmed while Reed was abroad in Madrid during fall 2015, "Black en Spain" asks tough questions about the trials and tribulations of being Black and abroad.
"Black en Spain" will debut on Monday, Feb. 22, at 7 p.m. in Gifford Auditorium (located behind the Hall of Languages). For more information on the film or this screening, please contact Danielle Reed at dsreed@syr.edu or call 678-485-5731.
URL: http://daniellesreed.weebly.com/black-en-spain.html
Contact: Danielle Reed
Black Artist League
678-485-731
dsreed@syr.edu