Campus & Community
SU Achieves American Heart Association Gold as a Fit-Friendly Worksite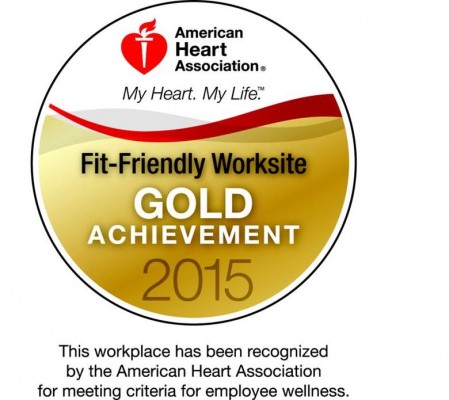 For the first time, Syracuse University has been recognized by the American Heart Association with its Gold Achievement award for the University's efforts to support employee heart health and be a Fit-Friendly Worksite.
"This is recognition that the University is investing in the well-being of its employees and creating a culture of health and wellness, really making an impact and transforming people's lives on campus and in our community," says the American Heart Association's Denise McGraw.
Syracuse University joins 42 Central New York organizations representing more than 52,000 employees—and 2,004 organizations with more than 5.3 million employees nationwide—on the American Heart Association's Fit-Friendly Worksites Honor Roll.
A key factor leading to this national recognition is the University's commitment to being a tobacco-free campus, established last year by the adoption of a tobacco-free policy on July 1, 2015. "That had to happen before Syracuse University could even be considered for the gold designation," McGraw says.
Other factors were the large number and variety of health and wellness programs sponsored by the University's Wellness Initiative, Recreation Services and Lerner Center for Public Health Promotion, among others, such as Healthy Monday, Walktober, the Monday Mile, free fitness and tobacco-cessation classes, and the Mindful Eating and Mindfulness Based Stress Reduction (MBSR) classes.
"Syracuse University strives to support a culture of health and wellness by implementing policies and practices that create healthy environments and offer opportunities for enhancing health and well-being," says Gail Grozalis, executive director of wellness for faculty and staff. "The implementation of the Tobacco-Free Campus is only one facet of the University's commitment to a healthy campus community. The many wellness and work-life programs, services and resources available to faculty and staff enrich quality of life and help individuals optimize both personal and professional satisfaction and performance."
Faculty and staff can check out what the Wellness Initiative has on tap for spring, learn more about MBSR, free blood pressure clinics and healthy eating, and explore what Carebridge brings to the Faculty and Staff Assistance Program (FSAP) on the Wellness Initiative website.
Joseph Lore, director of recreation services at Syracuse University, sees the American Heart Association award as proof that the University is doing something right when it comes to the health and fitness of its workforce.
"This designation acknowledges our goal in providing the campus community with many resources to live healthy and active lives," Lore says. He encourages faculty and staff to explore what Recreation Services can provide.
"The University workforce is offered unique opportunities to participate in diverse programs and services, ranging from fitness centers, group classes and personal training to ice skating, adventure trips and intramural sports, plus team-building and other personal and staff development activities," Lore says.
Leah Moser, who coordinates the Healthy Monday programs for the Lerner Center, said the University community is fortunate to have not only strong institutional support for health and wellness, but a diverse array of programs, initiatives and activities that offer individuals opportunities to enhance personal well-being on their own terms.
"At the Lerner Center, we recognize that wellness means many things, so with the Healthy Monday initiative we work with our campus partners to offer a variety of free programs for all members of our campus community," Moser says. "From healthy dining options, free fitness classes and Monday Mile walking routes, to a weekly meditation and more, we support employees on the path to achieving good health."
"We love that Syracuse University is focused on the health of the campus community, and we hope to partner with them in more and more ways going forward," says the Heart Association's Denise McGraw, director of the annual Syracuse Heart Walk, which is Saturday, April 2, this year and typically includes a strong showing by Syracuse University teams.
To participate in the 2016 Heart Walk, you can sign up as an individual, create a team, or support a participant by visiting the Syracuse Heart Walk Registration website.
The University will show its support for the Heart Association's Go Red for Women campaign and National Wear Red Day by lighting the Hall of Languages in red on the evenings of Thursday, Feb. 4, and Friday, Feb. 5. February is American Heart Month.