Campus & Community
Students, Faculty, Staff Invited to Participate in Climate Assessment Survey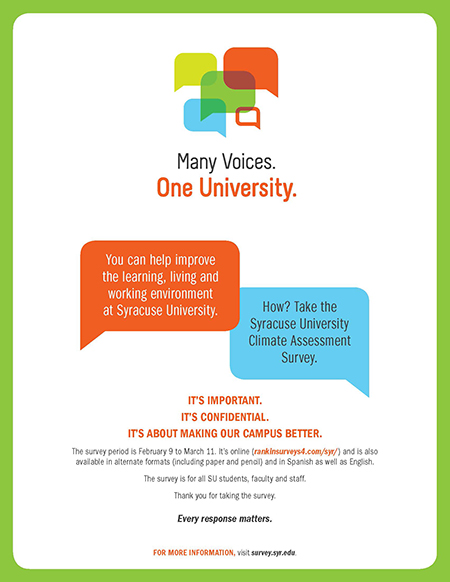 The Syracuse University Climate Assessment Survey is now under way and continues through March 11. All students, faculty and staff are encouraged to take the survey in its convenient online format or in a paper-and-pencil version available at the information desks at the Schine and Goldstein student centers and other locations on campus.
Why is the survey important? "One of the things that makes a great university is an inclusive and diverse learning, living and working environment. This means a campus and community that reflects openness, fairness and equality for all," said Chancellor Kent Syverud in a message sent yesterday to the University community.
"The research survey includes questions about both positive and challenging aspects of the campus climate," the Chancellor continued. "It is your opportunity to describe your experiences, your observations and offer suggestions for change that can make the Syracuse University experience even better."
Individuals who take the survey will find on its last page a link to a separate "thank you" site at which they can submit their name, email address and phone number to enter a random drawing for a variety of survey prizes, including four 100-level tickets to the Feb. 27 SU-NC State men's basketball game in the Carrier Dome and gift cards/certificates to Amazon and several local restaurants and other businesses. Those who register for the prize drawing are in no way linked or identified with the survey information they have submitted; survey responses remain confidential.
The survey takes roughly 20 minutes to complete. Participation is voluntary and confidential; no information will be collected that personally identifies respondents. The data that is collected is stored on a secure server hosted by Rankin & Associates, the outside consultant contracted by the University to develop and conduct the survey.
The SU Climate Assessment Planning Committee worked closely throughout the summer and fall with Susan Rankin, principal of Rankin & Associates and a nationally recognized expert in this field, to formulate questions for the survey. The effort included late-October focus groups involving students, faculty and staff.
Once the survey participation period has closed in March, Rankin & Associates will begin analyzing the data. A report of results will be presented to the University in fall 2016. All stakeholders—students, faculty and staff—will be invited to participate in the development of post-survey strategic actions.
For more information and background on the survey, visit http://survey.syr.edu.