Campus & Community
Student Voter Registration Project Underway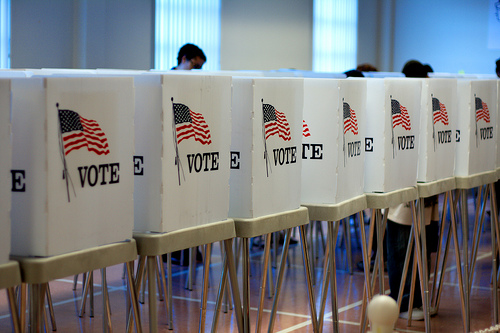 The push is on to make sure as many students as possible are registered to vote when the presidential election is held on Nov. 8. A voter registration campaign is now underway, but according to Diana Napolitano, it's much more than a drive to get out the vote.
"I'm looking at it as starting the path towards civic engagement for students," says Napolitano, assistant director of the Office of Government and Community Relations. "We need to have a well-educated citizenry to make this country work. Getting our students involved is a step in that direction."
From this mindset Napolitano's office launched the Voter Registration Project.
"Every university that receives federal funding is required to make voter registration forms available, which for years has meant making them available at Schine Student Center. This year, we needed to do more," says Napolitano. "We felt this was a great opportunity to reach students beyond just distributing forms. We want to partner with student organizations to set up a process that keeps voter education alive in the minds of our young people."
Napolitano reached out to the Citizenship and Civic Engagement (CCE) program at the Maxwell School. CCE student Kennedy Patlan '18 became an enthusiastic advocate of the initiative, and now directs the project's efforts through partnerships with the EDGE Development program, a program within SU's branch of the Public Relations Student Society of America (PRSSA) and the student-run The New House Advertising Agency. From there, a survey was developed to establish a baseline of voter activity on campus.
"So far, we've had more than 250 responses to our survey," says Patlan. "What we learned is that while 77 percent of the respondents say they are registered to vote, 59 percent say they've never actually voted. I think this just speaks to the fact that people may not have the knowledge or experience in knowing exactly how voting works."
Napolitano says freshmen and sophomores will be the focus of their campaign. "The survey is the first step," she adds. "We want to take those attitudes [that led students to register in the first place] and build on them, including possibly an ad campaign, a logo, website, even a kiosk where we can offer information year round, to keep this issue alive even outside of the campaign cycle."
A reminder: this year, you must be registered by March 25 to vote in the April 19 primary, and by Oct. 14 to vote in the presidential election.
To weigh in with your opinion on voting, check out GCR's survey at here.
For more information on how to register to vote, along with forms from the Board of Elections, click here.