Campus & Community
Orange After Dark Expects Exciting Spring Semester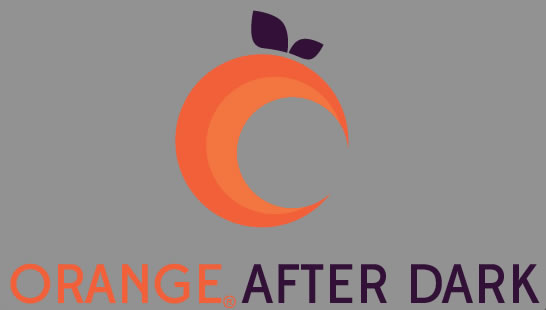 Orange After Dark (OAD) is in full swing with its calendar of fun-filled events spanning the entire spring semester—options include snow tubing, laser tag, open mic night and plenty more.
"We're really excited about the OAD schedule this spring. We had such a great fall and can't wait to bring students back to some favorite locations and introduce some new events to the line-up that we're sure will be big hits," says Courtney Jones, assistant director in the Office of Student Activities. "Cosmic Bowling was a great way to start off the semester—the event sold out in just five days and the students had a blast! Despite below-freezing temperatures outside, they spent the night dancing, eating and, of course, hitting a couple of strikes at the alley."
One of the newest additions made by OAD is Grocery Bingo, a fast-paced Bingo game where students can come have fun and win bags of groceries that will work in both off-campus apartments as well as residence halls. The event is free with no tickets needed. This is one of many new options for students to choose from this semester.
In addition to the list of spring events found below, OAD will once again offer other continuous programming for students throughout the semester with Flashback Friday Movie Screening—titles include "Ferris Bueller's Day Off," "Dirty Dancing," "Clueless" and more—on Friday evenings and Midnight Movie Screenings—titles include "Burnt," "The Big Short," "Concussion" and "Sisters," among others—on Saturday evenings. Movies are shown in Gifford Auditorium on Saturdays at 11:30 p.m.
Through its ongoing collaboration with Recreation Services, OAD will also continue to host Late Night at the Gym. From 10 p.m. to 1 a.m, students are able to visit Archbold, Flanagan and Women's Building Gyms, along with the Tennity Ice Pavilion, to take part in some exciting and different activities, including volleyball, Salsa and Merengue, yoga, ice-skating and indoor soccer. All activities are free and the complete schedule of activities can be found on the Late Night at the Gym Web page.
Thus far, spring 2016 OAD events have included:
Cosmic Bowling on January 23
Get Air! Trampoline Park on January 30
Grocery Bingo on February 5
Cascades Indoor Water Park on February 6
The remaining spring 2016 OAD line-up is:
(Events start at 10 p.m. unless otherwise noted.)
"Zoolander 2" on Saturday, Feb. 13 (begins at 10:30 p.m.) at Regal Cinemas
Dave & Buster's on Thursday, Feb. 18 (begins at 10:30 p.m.) at Destiny USA
Snow Tubing on Friday, Feb. 19 at Greek Peak
Winter Carnival Glow in the Dark Skate Night on Friday, Feb. 26 (begins at 9 p.m.) at Tennity Ice Pavilion
Winter Carnival Laser Tag on Saturday, Feb. 27 (begins at 8 p.m.) in Goldstein Auditorium
Ropes Course and Bubble Soccer on Saturday, November 7 in Flanagan Gym
Paint Night on Friday, March 4 in the Sheraton Hotel Regency Ballroom
Sailesh the Hypnotist on Saturday, March 5 in the Schine Underground
"The Divergent Series: Allegiant" on Saturday, March 26 (10:30 p.m.) at Regal Cinemas
"Inside Out" Encore Screening on Friday, April 1 in Gifford Auditorium
Wonderworks on Saturday, April 2 at Destiny USA
ThinkFast Interactive Game Show on Friday, April 8 in the Schine Underground
Grocery Bingo on Saturday, April 9 in Schine 304s
Pinterest Party on Saturday, April 16 in Schine 304s
Open Mic Night on Saturday, April 23 in the Schine Underground
Pancake Breakfast "Stressbuster" on Sunday, May 8 in Schine Dining
The full list of events can be accessed by visiting the Orange After Dark website. Off-campus events, which include transportation, are $3 and all on-campus offerings are free.
You can now download the SU Guides App to access the OAD Guide with full event details and ticket information. Orange After Dark is also on Twitter: @OAD_SU #OrangeAfterDark.