Health & Society
Legendary Feminist Gloria Joseph to Visit Syracuse Feb. 29
Black feminist icon Gloria Joseph is making a rare Central New York appearance with a visit to the Community Folk Art Center (CFAC).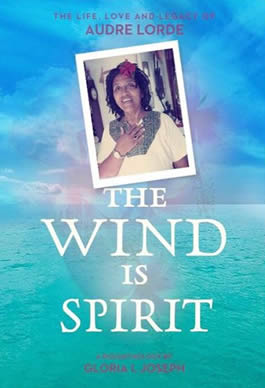 On Monday, Feb. 29, Joseph will read from and discuss "The Wind Is Spirit: The Life, Love and Legacy of Audre Lorde" (Villarosa Media, 2014), from 5-8 p.m. at CFAC (805 East Genesee St., Syracuse). Free and open to the public, the event is sponsored by the Democratizing Knowledge (DK) Collective in the College of Arts and Sciences, and is followed by a reception and book-signing. For more information, call 315-443-8750.
"This is a rare opportunity for students and scholars alike," says Linda Carty, associate professor of African American studies and sociology and co-director of the DK Collective. "Gloria Joseph is a long-standing feminist whose scholarship and activism have always merged in speaking truth to power—challenging injustice at all levels, whether in the academy or the broader community."
Regarded as a "living, radical, Black feminist legend," Joseph has spent more than 60 years confronting the injustices of racism, sexism and homophobia. This struggle underscores much of "The Wind Is Spirit," a revealing bio/anthology of Lorde, her late partner for more than four decades. Included are poems, essays and reflections by such luminaries as Angela Davis, Distinguished Visiting Professor in Women's and Gender Studies (W&GS) from 2007 to 2010; scholar-activist Sonia Sanchez; playwright Jewelle Gomez; and activist Assata Shakur.
Lorde, who succumbed to liver cancer in 1992, described herself as a "Black, lesbian, mother, warrior, poet." Many of her poems and essays addressed issues of racial injustice.
Chandra Talpade Mohanty, who co-directs the DK/Mellon Summer Institute with Carty, says Joseph's visit exemplifies the collective's commitment to fostering a more open, diverse campus.
"This visit is one of many in which we seek to build a more sustainable campus culture that is committed to anti-racist feminist knowledges," says Mohanty, who also serves as Distinguished Professor and chair of W&GS, as well as Dean's Professor of the Humanities. "Dr. Joseph's prodigious body of work and social activism is nothing short of extraordinary. She is a Black feminist icon—someone whose vision and indefatigable spirit are just as palpable today, in her 80s, as they were decades ago."
Mohanty adds that, at CFAC, Joseph will play the role of a griot, an African storyteller whose "performance" is steeped in history and genealogy.
Joseph is professor emeritus of Africana studies at Hampshire College in Amherst, Mass., where she is revered for her cross-cutting pedagogical style, blending scholarship, arts and activism. Her professional career has also encompassed teaching stints in various other secondary, vocational and alternative settings.
A prolific scholar, Joseph is the author of the classic novel, "On Time and in Step: Reunion on the Glory Road" (Winds of Change Press, 2008), and editor of multiple anthologies, including "Common Differences: Conflicts in Black and White Feminist Perspectives" (South End Press, 1999) and "Hell Under God's Orders" (Winds of Change Press, 1990).
A citizen of the world, Joseph has lived in or traveled extensively throughout North America (particularly the Caribbean), Europe, India and Asia. Amid her travels, she has founded or co-founded various advocacy organizations, including the Che Lumumba School for Truth, the Women's Coalition of St. Croix (U.S. Virgin Islands), the Sisterhood in Support of Sisters in South Africa and Doc Loc Apiary.
While describing Joseph, Carty references an incident in 1969 when, as an assistant dean of students at Cornell University, Joseph participated in a sit-in in the Office of the President, demanding that the curriculum be made more relevant to the lives of African American students being recruited.
"Her work resonates deeply with the DK's mission of decolonizing knowledge in today's academy by making it more relevant to the local and global realities of neoliberalism and those being impacted most," Carty adds. "Dr. Joseph continues to teach us how to live as principled ethical beings in these difficult times, and how to love ourselves and each other."
Joseph earned a Ph.D. in educational psychology from Cornell, where she became the inaugural director of the university's first institutionalized diversity initiative and served as a professor in the Africana Studies and Research Center.
Her visit is co-sponsored by the Department of African American Studies, the Cultural Foundations of Education Program, the Humanities Center, the Intergroup Dialogue Program, the LGBT Resource Center, LGBT Studies Program, Program for the Advancement of Research on Conflict and Collaboration and the Department of Women's & Gender Studies.