Campus & Community
Fans Invited to Give to United Way as They Arrive for North Carolina State Men's Basketball Game
The University's fundraising campaign for the United Way of Central New York will culminate Saturday, Feb. 27, with Dollar Day in the Dome. Proceeds from Dollar Day will be added to the $216,000 already raised by employees since their campus campaign began last October.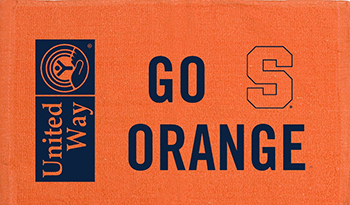 Before the men's basketball team tips off against North Carolina State Saturday, Feb. 27, at 2 p.m., fans entering the Carrier Dome will have an opportunity to donate to the United Way of Central New York. More than 60 student volunteers from SU's fraternities and sororities will be stationed inside Carrier Dome entrances, in the back court and near the concessions wearing United Way orange caps and holding orange buckets, greeting fans and soliciting donations for the United Way. They'll also be selling orange fan rally towels for a $5 donation. Patrons who donate will be investing in the 91 local programs and services at 32 local agencies funded by the United Way of Central New York.
This is the 44th year Syracuse University employees have conducted a campus-based fundraising campaign for the United Way. Dollar Day has been a part of that campaign for 19 years, giving students an opportunity to participate in the staff-led campaign.
"Students will be out 90 minutes before tipoff and again at halftime, stationed at key areas, collecting donations from fans," explains Pete Sala, the campus' 2015-16 campaign chair. "We encourage fans to look for them, buy a rally towel or make a donation in one of the orange buckets and help us help our community."
"If each fan gave just a dollar, imagine what we could do for our community at just one game," says Peg Northrup, coordinator of the campus campaign and the event's manager. "It's the concept that can have a tremendous, direct impact on the 91 local programs funded by the United Way of Central New York. We're excited."
During the game, fans will notice a new United Way presence within the Carrier Dome. As the University's official community partner, the United Way is now featured in video board messages and audio announcements, and has a booth in the back court area.
Concession stands, merchants and Club 4.4 are equipped to accept fan donations electronically with each transaction, cash or credit.
University officials will present a ceremonial check to the United Way during the last official timeout of Saturday's game.
For more information on Dollar Day at the Dome, the Game Changer concession promotion, or the campus campaign, visit http://uw.syr.edu or contact Northrup in the Office of Government and Community Relations at 443-5303.