Arts & Culture
"COMPOSITIONS" Exhibition at Syracuse Architecture to Honor Creative Work of Bruce Abbey, Architect, Retiring Professor, Former Dean
"COMPOSITIONS: 1966-2016," an exhibition in the Slocum Hall Marble Room representing 50 years of architecture, drawing, and painting by architecture professor, former dean and architect Bruce Abbey will open Thursday, March 3. It will run through April 14.
Abbey is retiring from the school following a long career of dedicated service. An opening reception for "COMPOSITIONS" will take place on March 3 at 5 p.m. in the Slocum Hall first-floor atrium. Abbey will give a gallery talk in the Marble Room at 5:45 p.m. All events are open to the public.
"Grounded in a formalist tradition, with a bias towards seeing architecture as the interconnection of drawing and painting," says Abbey, "this exhibition is a sampling of 50 years of creative effort in a variety of mediums and situations. Recurring throughout is a sub-theme of drawing—a necessary foundation to form making. Many of the projects have preparatory sketches or line drawings as a method of working and design thinking. Drawing remains, for me, a necessary means of research and discovery, integral to the creative act. 'COMPOSITIONS' reflects an attitude that all creative work demands a formal structure that organizes ideas and thoughts, while illustrating a problem to be recognized."
Abbey attended the Liceo Classico "Giulio Cesare" in Rome from 1960-1961. He received a bachelor of architecture degree from Cornell University in 1966 and master of architecture degree from Princeton University in 1971. From 1966-1969 he served as a Peace Corps volunteer in Tunisia, working as an architect for the Bureau of Public Works and the National Institute of Archeology. His professional experience includes projects with the offices of Dan Kiley, Michael Graves and Geddes Brecher Qualls Cunningham.
Abbey began his teaching career at the University of Virginia in 1974 and served as co-chair and chair of the Department of Architecture, as well as associate dean of the School of Architecture. In 1990, he accepted the position of professor and dean at Syracuse University School of Architecture. Abbey returned to full-time teaching at Syracuse in 2002 after serving as dean for 12 years.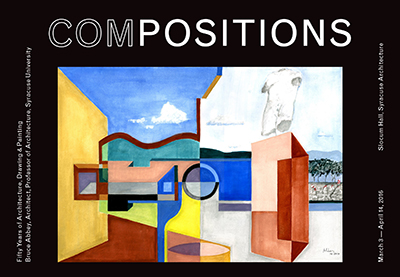 Abbey's writings and architectural projects have appeared in Space Design, Modulus, The Princeton Journal, AIA Journal, Architecture, JAE, Dialogue and World Architecture. He has served on the editorial boards of the Journal of Architectural Education, and World Architecture magazine, and on the advisory boards of the School of Architecture at Princeton and the Landscape Program at SUNY ESF. He is a registered architect and has been a GSA Peer Review advisor.
Reflecting on Abbey's tenure as dean, long-time Syracuse Architecture colleague Professor Randall Korman observes, "Bruce brought to the job a combination of the quiet pragmatics of his Vermont upbringing and the southern gentility of his adopted Virginia. It was an ideal combination that served well during his 12 years as dean. His legacy includes numerous initiatives such as the creation of the Office of Career Development; the founding of the Community Design Center; the expansion of the visiting critic program; and the establishment of the Seligmann Lecture Series, to name just a few. Without question, when he stepped down in 1992, he left the school a much better place and those of us that were fortunate to have been at Syracuse during his tenure as dean are most grateful."
"As professor and dean, Bruce Abbey made a profound impact on the quality of architecture education at Syracuse," says Dean Michael Speaks. "We're grateful for his dedication to our program. He will be missed."