Campus & Community
Climate Survey Seeks Campus Input to Help SU Develop More Inclusive Environment
The SU Climate Assessment Survey of all students, faculty and staff opens Tuesday, Feb. 9, and continues through March 11. The survey is conducted online on a secure off-site server hosted by Rankin & Associates Consulting, the outside consultant the University has contracted to develop and implement the survey. Participation is voluntary and confidential; no information will be collected that personally identifies respondents.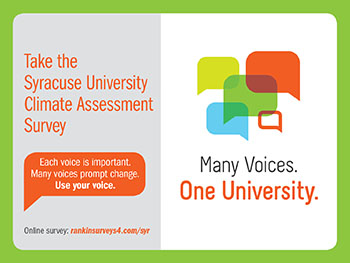 The survey is available in Spanish as well as English. For those who wish to complete a paper-and-pencil version, copies are available at the information desks in the Schine Student Center, the Goldstein Student Center and the Nancy Cantor Warehouse.
What exactly is "climate?" In this context, climate refers to the current attitudes, behaviors and standards of employees and students concerning the access for, inclusion of and level of respect for individual and group needs, abilities and potential. This survey is vitally important because data from it will help inform future plans to foster a more inclusive learning, living and working environment at the University.
Survey data will be collected and stored on a secure server hosted by Rankin & Associates. Once the survey closes, the consultant will begin analyzing the data, leading to a report of results that will be presented to the University in fall 2016 and will inform the development of strategic actions that will begin to be implemented in 2016-17. All stakeholders—students, faculty and staff—will be invited to participate in the development of post-survey action initiatives.
The survey takes about 20 minutes to complete. An individual may skip questions, but must answer at least 50 percent for his/her responses to be included in the final analysis. Some questions are for students. Some questions are for faculty and/or staff. Some are for all. Along with the questions, opportunity to offer optional commentary is provided throughout the survey.
At the conclusion of the survey, the individual may follow a link to submit his/her name, email address and phone number to enter a random drawing for one of many survey awards, which include four 100-level tickets to the Feb. 27 SU-NC State men's basketball game in the Carrier Dome, plus gift cards/certificates to Amazon, Chipotle, CNY Karate & Kobudo Schools, Fleet Feet Sports, King David's, Starbucks, the SU Bookstore and Toggenburg Mountain. An individual who has completed the survey and registered for the prize drawing is in no way linked or identified with the survey information he/she has submitted; survey responses remain confidential.
The survey has been reviewed and approved by the University's Institutional Review Board. The survey project is the result of a recommendation by the Chancellor's Workgroup on Sexual Violence Prevention, Education and Advocacy. The survey was developed by the 14-member SU Climate Assessment Planning Committee—composed of undergraduate and graduate students, faculty and staff—working with Rankin & Associates.
For more information and background on the survey, visit survey.syr.edu.