Veterans
Career Services, Office of Veteran and Military Affairs Host Employer & Veteran Networking Reception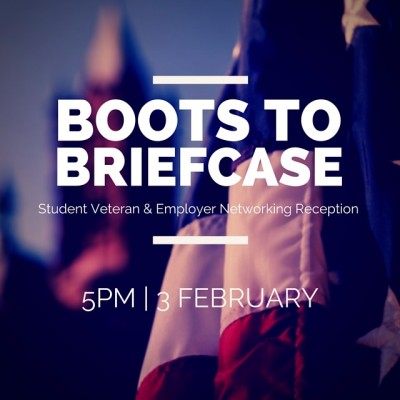 The Office of Veteran and Military Affairs and Career Services will present Boots to Briefcase: Employer & Veteran Networking Reception. This event is designed to connect student veterans and employers, and will take place at the Goldstein Alumni and Faculty Center on Wednesday, Feb. 3, from 5 – 7:30 p.m.
Boots to Briefcase is a networking event aimed at addressing the growing career development and employment needs of the veteran and military family community at Syracuse University and surrounding areas. The event brings together student veterans and employers, providing the student veterans with the opportunity to build professional networks with employers interested in recruiting and hiring veterans.
The event is open to student veterans of all years and majors who are interested in exploring careers and building professional networks for internship and job opportunities. This is a great opportunity for student veterans who want to meet and network with local and national employers that are interested in recruiting and hiring veterans. Participating companies include IBM, EY, Quicken Loans, Sherwin-Williams Company and INFICON.
"The main goal of this event is to provide student veterans with the resources and opportunities to network with industry leaders," says Assistant Director of Veteran and Military Family Career Services Jennifer Pluta. "We encourage student veterans to join us on Wednesday to connect with employers in a relaxed setting and learn what kinds of opportunities are available to them."
For more information about participating companies, visit the Boots to Briefcase networking page.
For any questions about the event, visit Career Services in 235 Schine Student Center or call 315-443-3616. Vets are encouraged to R.S.V.P. via email to Jennifer Pluta.