Campus & Community
Annual Winter Carnival and Chili Cook-Off Feb. 23-27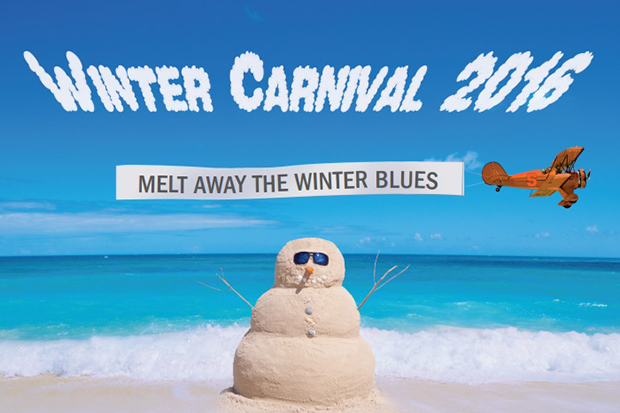 Since the 1930s, Winter Carnival, coordinated by the Traditions Commission and Office of Student Activities, has been a great way for SU to come out during Syracuse's colder months and enjoy some great events like the highly acclaimed Chili Cook-Off.
"The Chili Cook-Off is one of our club's favorite Winter Carnival events and the campus always looks forward to it! Definitely a staple in SU's traditions now," says Kyle Putnam, a sophomore in the College of Arts and Sciences and co-president of the Traditions Commission.
Among a list of events like comedy shows, trivia night and laser tag, the Chili Cook-Off has become a highlight of Winter Carnival and provides students, faculty and staff a fun way to compete to be named as having one of the best chili recipes on campus. On Thursday, Feb. 25, everyone at the University is invited to come try the 10 showcased entries and cast their votes via text for their favorite recipe. And the best part is, the event doesn't end until all of the chili is gone.
The complete line-up of Winter Carnival events this year includes:
Tuesday, Feb. 23
Winter Carnival Days, 11 a.m. to 2 p.m., in the Schine Atrium. Giveaways, free stuff, food and fun!
Wednesday, Feb. 24
Winter Carnival Days, 11 a.m. to 2 p.m., in the Schine Atrium.
Trivia Night, sponsored by Traditions Commission, 8 p.m., in 304 Schine. Get your team of two to four people together to win great prizes and eat snacks. The event is free and no tickets are needed!
Thursday, Feb. 25
Chili Cook-Off, 11 a.m. until it's gone, on the HBC Patio. Free chili tasting.
Cozy Cappella, presented by the A Cappella Council, 8 p.m., in Goldstein Auditorium. Free tickets are available at the Schine Box Office. Free hot chocolate and cookies will be provided.
Friday, Feb. 26
The Every 12 Months Comedy Show, presented by Zamboni Revolution. 8 p.m., in Schine Underground. Tickets are $2 at the Schine Box Office.
Glow in the Dark Late Night Skate Night, 9 p.m. to midnight, in the Tennity Ice Pavilion on South Campus. Skate rental and entry is free, and there will be hot chocolate and plenty of giveaways.
Totally Fabulous XIII Drag Show, presented by Pride Union, 10 p.m., in Goldstein Auditorium. Tickets are $5 with SUID or $7 for general public and can be purchased at the Schine Box Office.
Saturday, Feb. 27
Laser Tag, 8 p.m. to midnight, in Goldstein Auditorium. Play a few rounds of Laser Tag, watch "Parks and Recreation" and grab food in 304 Schine 304 (while it lasts!). The entire event is free.
For more information, email the Traditions Commission or tweet @SUtraditions