Campus & Community
Weight Watchers Is Ongoing—Join Anytime
The University's partnership with Weight Watchers® is ongoing and you can join anytime. If you are an active benefits-eligible Syracuse University faculty or staff member, you have access to discounted rates on Weight Watchers® Meetings (in the community and on campus) and Weight Watchers® Online Plus.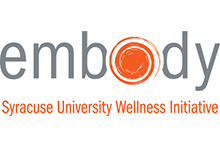 Weight Watchers® has launched a new program called Weight Watchers® Beyond the Scale. Weight loss is an important goal, it is just not the only goal. Weight Watchers® Beyond the Scale delivers a holistic and personal approach. The new program helps you balance food, activity and overall well-being. Success you can share is finally here. The focus is on you, not just a number on the scale.
Visit wellness.syr.edu/weightwatchers for full details and to register.
Brought to you by the University Wellness Initiative
Questions? Email wellness@syr.edu or call 315.443.5472
Add your name to our email list to stay up to date on the latest wellness events.