Arts & Culture
New Book Focuses on Life, Career of Syracuse Poet Philip Booth
Philip Booth, a longtime Syracuse University professor whose poetry focused on his native New England, is the subject of a new book.
"Available Light: Philip Booth and the Gift of Place" (Bauhan Publishing, 2015), by noted scholar and educator Jeanne Braham, celebrates the life and poetry of Booth, who was an English professor and a poet-in-residence in the College of Arts and Sciences from 1966-1986. He died in 2007 at the age of 81.
Braham says the title reflects two aspects of Booth's life. "Available Light" is a nod to his 1976 collection of poetry by the same name. In fact, it was through one of the book's poems, "How to see deer," that she first connected with Booth's economic writing style. "Gift of Place" refers to Booth's hometown of Castine, Me., a central character in nearly all of his work.
"I am writing a 'portrait,' a story of a poet, told through the unfolding of his poems," Braham says.
"Portrait" may be an apropos descriptor, as evidenced by the many family photos, letters, papers and interviews that run through the book. The result is a vibrant collage, dedicated to the memory of a thoughtful and devoted mentor, teacher, artist and father.
"Available Light" opens with Braham's visit to Castine, where she draws connections between Booth and Robert Frost, with whom he studied at Dartmouth College.
"If Frost served as a poetic mentor … , Castine provided the historic, geographic, and experiential canvas upon which Booth's poems are painted," writes Braham, adding that Frost had a similar love affair with his own hometown of Shaftsbury, Vt.
Braham hopes "Available Light" will bring Booth's work more fully into the public eye. While prolific and highly respected throughout his life, he never quite gained the kind of widespread popularity enjoyed by some contemporaries.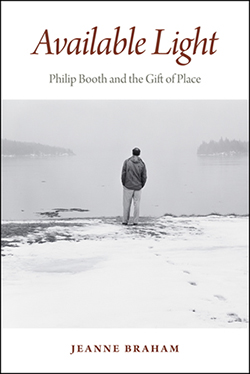 The author of 10 collections of poetry, Booth was revered for what critics described as a "spare, emotionally intelligent, quintessentially New England writing style." He also was an accomplished educator, having taught at Dartmouth, Bowdoin and Wellesley colleges prior to Syracuse.
Brooks Haxton G'81, professor of English at Syracuse, was one of Booth's students in the M.F.A. Program in creative writing. He calls Booth an inspiration, adding that his teacher's picture is still taped to his office door.
"He dedicated himself to writing with the kind of sustained intelligence and imagination that kept him making his best poems in his 50s and 60s. That is no small feat for a writer who started as strong as he did," Haxton recalls. "When his book 'Before Sleep' [Viking] came out in 1980, I told him I thought it was his best work, and he said he thought so, too. His next four books kept building on that strength, which came in good part from a style that delivered imaginative poise and perpetual surprise and wonder at the tip of the unfolding sentence."
Notes fellow poet and critic Dave Smith: "I can think of few poets who give us more clarity, humility and translucent dimension than [Philip] Booth."