STEM
Fake a Knee—Professor, Students Develop Device for Joint Repair Research
When patients undergo traditional knee replacement surgery, the bone and cartilage that make up the knee joint is replaced with one built with metal, plastic and polymers. Along with their natural joint, patients lose a certain quality of life. Risk of infection is increased. Weight gain becomes a critical concern. Additional surgeries and revisions are likely throughout the patient's life. Despite significant advances in artificial joints, College of Engineering and Computer Science Assistant Professor Michelle Blum sees a distinct need for better solutions and has made repairing knee joints a primary focus of her research.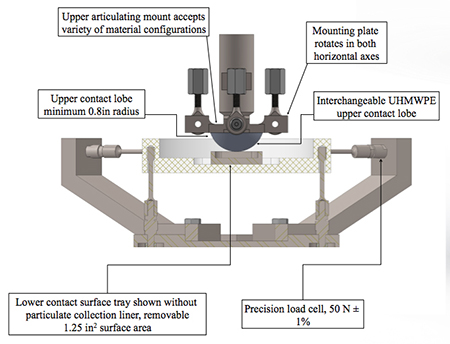 "Increasingly, younger people are sustaining injuries that require that their joints be repaired, so we need to avoid the standard orthopedic constructs. Let's say you're a 25-year-old soccer player and you're injured in a game. You don't want a traditional knee replacement, because you will never play again. We're looking for new kinds of constructs—biomimetic materials like hydrogels—that can supplement pieces of the tissue instead of replacing the whole joint," she says.
"My research group is looking at materials that can be put into a localized defect in the cartilage while still maintaining the same joint movement. We want to keep as much healthy tissue intact as we can to have a better chance of creating a solution that will help patients maintain most of their quality of life," says Blum.
What Blum needed was a way to test the biomimetic materials that may one day be used to "patch" cartilage damage. She called upon one of her graduate students, Ryan Olson '14, G'16, to develop a custom piece of equipment capable of doing so, with very specific requirements. He accepted the challenge and set out to design a mechanical knee to test and measure various natural and synthetic material combinations.
They enlisted the help of Gabriel Smolnycki '17, an undergraduate mechanical engineering student with a penchant for electrical engineering and computer programming, to round out their small team, and in less than a year an a half their one-of-a-kind invention has become a reality.
Their simulator —the 6-Axis CNC Biotribometer — is able to mimic the complex motion of a walking gait cycle of the human knee. Test material can be placed in the device. Then, the biotribometer repeatedly carries out the natural motions of a person's knee either during walking or running. In doing so, it is able to quantify the friction response and wear rate of the material they are testing. It is capable of precisely measuring the coefficient of friction to a resolution of 0.005 in x and y axes, and also collects wear particles for further analysis.
The primary feature that sets this device apart is its ability to operate in a simulated in vivo environment where joint capsule temperature, relative humidity and atmospheric conditions can be regulated. This makes it possible to also test scaffolds with living cells in the device.
"We need to test the mechanical integrity of these materials, but they may also be seeded with cells once they are in the body. So, we need to also look at how cells respond to the material and the joint forces they will be exposed to in vivo. Normal joint simulators cannot do that for you. With this device, we're able to keep cells alive, test new materials and see how it all interacts with healthy cartilage," Blum explains.
The team will officially begin testing of materials this month in the Syracuse Biomaterials Institute. They are eager to see how the device performs and to begin gathering data from their invention. Olson is confident in the final product and grateful for the experience of applying his education and talents to what proved to be a remarkable project.
He says, "Of course there have been challenges along the way, but we always found a way to get over those hurdles. In our preliminary tests, it has worked exactly the way it should, and that's encouraging. It's been such an interesting project and I'm looking forward to see where it goes. It was a great opportunity and I'm happy I got to work on it."